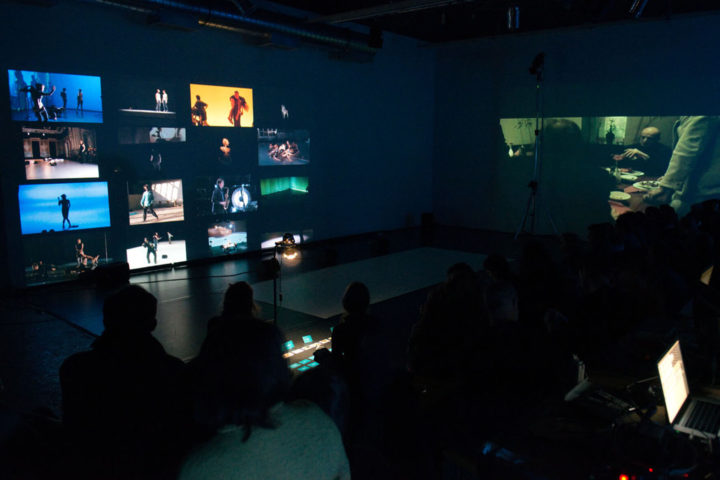 choreographic cinema
living room product III
3 positions
Films by Shelly Love, Hiroaki Umeda, Barbara Doser, Hanna Gillgren, Willy Dorner, Tina Frank, Michaela Grill, Ninja Miori, Marten Nilsson, Manuel Knapp, Billy Roisz, Michaela Schwentner, e.a.
Screenshots: Daito Manabe, Shelly Love (Clingfilm), Hiroaki Umeda (Montevideoaki), lia (int.16/54//son01/30×1)
A juxtaposition of the newest video-dance films by IMZ and sixpackfilm in opposition to a series of documentaries / films about mold fungus, electro shocks, protozoal couples and motorcycling gangs selected by Ella Esque or the abstract audio-visual video art works curated by Michaela Grill. Their common denominator is the interest in a choreographic language of forms. The exploration of choreography on screen corresponds with the original function of the former Gudrun Kino, which now hosts rehearsal studios for contemporary dance. Projected choreographed images, complex cycles of movement or rhythmic filmic sequences merge into the installative setting of this event. The various progammatic strands are happening simultaneously in order to encourage the audience to change more than once between the different studios.
A programm by Liquid Loft in collaboration with IMZ and sixpackfilm within the framework of Living Room Products. Curated by: Michaela Grill, Ella Esque, Chris Haring.
when & where
November 20th
Opening & Performance
"How far do you want to go" by Sabine Marte
November 21st
Live Act GlimGrill and NTSC (dieb 13, Billy Roisz)
living room products
In the Living Room Products, choreography not only leaves the usual theatre setting, but also the spaces society generally assigns to artistic practice. The Living Room Products are an experiment in new ways of working and were initiated to foster the development of new ideas and concepts. Artist of all different genres meet with the audience in a private living room atmosphere in the former Gudrunkino, now Liquid Loft's rehearsal studio.