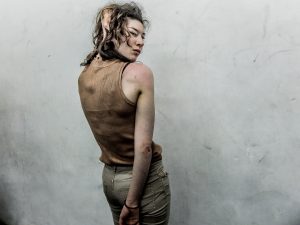 Get your tickets for Liquid Loft's premier at ImPulsTanz Vienna International Dance Festival where we will be performing in the rooms of Leopoldmuseum.
New site-specific shows for Tanz Ist Festival in Dornbirn (AT), Fronta Festival Murska Sobota (SI) and Freedom Festival Hull (UK).
Candy's Camouflage will be presented in Munich, Germany at Tanzwerkstatt Europa on August 6th.
Austrian choreographer Chris Haring worked with choreographers and companies such as DV8 Physical Theatre (London), Nikolais/Luis Dance Cie (USA), man act (GB), Nigel Charnock (GB), pilottanzt, a.o. In cooperation with multimedia artist and composer Klaus Obermaier he developed the video-dance performances "D.A.V.E." and "VIVISECTOR" which have been successfully shown all over the world.
One of his main influences for his performances, such as Fremdkörper (Best Performance at Biennale de La Danse in Lyon 2004) is science fiction and the human body as a cybernetic landscape. Since 2005 he is artistic director of Liquid Loft. He choreographed performances such as Kind of Heroes, Running Sushi, Talking Head and the Perfect Garden Series. In 2007 the Posing Project Series was created and Posing Project B – The Art of Seduction won the Golden Lion for the Best Performance at the Biennale di Venezia.
In 2010 Chris Haring received the "Outstanding Artists Award" for performing arts from the Austrian Federal Ministry of Arts (BMUKK). With Liquid Loft he was responsible for the opening performance for the Austrian Pavilion at the World EXPO in Zaragoza (2008). Lately, he has also choreographed pieces for international groups such as the Jin Xing Dance Theatre (Shanghai), Les Ballets de Monte-Carlo, Dialogue Dance (RU), Staatstheater Kassel, Contemporary Ballett Moskau, Balletto di Roma und Balé da Cidade de São Paulo.
Andreas Berger is a musician/composer who lives and works in Vienna. He studied Computer Music and Electronic Media at the University of Music and Performing Arts in Vienna and works in the fields of theatre, film and contemporary dance. Since 2001 he has published a number of compositions, a.o. "Music for Field Recordings" (2003) and "Aerial View of Model" (2006). He is a founding member of Liquid Loft and since 2005 responsible for music and sound conceptions for the Dance Company. Other collaborations include: Michaela Grill, Mara Mattuschka, Ralo Meyer, WR, manoa free university, Lars Stigler, FLAU a.o.
He was awarded the prize for Composition and Performance in Space of Sound (2010 at the Theatre Festival Kontrapunkt); the award for Best Music in Short Film – International (2009, at the International Short Film Festival Hamburg) and the Golden Lion for the Best Performance (with Liquid Loft) at the Venice Biennale.
Stephanie Cumming is Canadian dancer/choreographer/actress living in Vienna. Following her classical training, Stephanie graduated from the University of Calgary in 2000 with a Bachelor of Arts in Dance. She has been working with Chris Haring since 2003 and and together with him, Andreas Berger and Thomas Jelinek founded Liquid Loft in 2005 and has collaborated on and performed in every piece since the company's inception and has also worked as Haring's choreographic assistant.
In 2004 Haring choreographed the solo Legal Errorist for her for which she was named Outstanding Young Dancer in Ballett-Tanz Magazine. She also received a danceWEB scholarship in 2004. She has collaborated on various film projects with artists such as Mara Mattuschka, Erwin Wurm and Harald Hund. In 2009 she was invited as a choreographer to be part of Beyond Fr@nta, a project between dance organisations in four different EU countries. Her own work includes solos such as Ah Poetry (Szene Salzburg, Impulstanz), the short solo P.S. which was commissioned by Tanzquartier Wien for the opening of their new season, as well as her lecture performance Redneck to Cyborg: A Shared Transformation which premiered in Tanzquartier in 2009. In 2012 she created the short solo aurora borealis for the Austrian Dance Platform in Impulstanz.
She also collaborates with Toxic Dreams and in 2014 premiered the full length solo "i dance, therefore i talk" in Tanzquartier Wien, which was written for her by Yosi Wanunu. Stephanie played the lead role in Gustav Deutsch's award winning film Shirley:Visions of Reality which premiered in 2013 at the Berlinale and continues to be screened at various international film festivals. She also plays a lead role in Daniel Hoesl's upcoming film WINWIN which will premier in 2015. Stephanie often teaches professional training in Tanzquartier Wien as well as giving workshops internationally.
Born in Stockholm. He is a stage director, dramaturge, video- installation- and concept artist. He has created video- and other installations, music performances, architectural projects and also works as a director in tv-productions and as a curator. In this context he realized a number of east-west connecting transdisciplinary art projects. One focus of his artistic work is on space and perception, resulting in installations of contextual spaces and conceptional communication scopes which create performative qualities. Interventions in public spaces and production of discourse zones as theatrical processes as well as stage-design and light-concepts for theatre and art spaces are part of his work.
As a stage director he has realized various performance, opera and theatre projects in Austria, Germany, Switzerland, the Netherlands and France and has worked as a dramaturge for various dance productions. He was co-founder and director of MESSING network. From 2000-2008 he was chairman of IG Kultur Vienna (association of independent artists and cultural organizations/Vienna). In Vienna, he founded NOMAD theatre in 2000 and the LABfactory in 2003, where he is artistic director. He is co-founder and member of Liquid Loft. He has been teaching amongst others as guest professor at Willem de Kooning Academy in Rotterdam.
Anna Maria Nowak was born in Poland, where she studied Scandinavian Studies at the University of Gdansk.  She received her dance education at Anton Bruckner Universität in Linz, Austria and was a member of x.ida postgraduate dance company. Since 2005 she is working as a freelance dancer, choreographer and teacher in Vienna.  In 2006 she joined Liquid Loft for the Posing Project and since than has been working with the company in various stage and film productions. She also worked with i.a.Elio Gervasi, Julia Mach, Alexander Gottfarb and Radek Hewelt.
Since 2009 she is also a member and cofounder of an Austria based group – The Loose Collective.  Her own solo works include "mindblankless" and "fall and crash into thousand of pieces" – both premiered at the festival OdeonTanz. In 2009 she received the DanceWeb scholarship. She was also part of the research project Embodied Generative Music at the Institute for Electronic Music (IEM) in Graz. Currently she is working together with Alexander Gottfarb on a performance "On Traces" that will premiere in Tanzquartier/Studios in February 2015.
Arttu Palmio is a Finnish dancer and performer. He studied contemporary dance in Helsinki and in Amsterdam, and received a Master of Arts in Dance from the Theatre Academy of Helsinki in 2014. He has worked as a performer with notfoundyet/Laia Fabre & Thomas Kasebacher (ES/AT), Georg Blaschke (AT), Alessandro Sciarroni (IT), Joona Halonen (FIN) and Sara Ostertag (AT),  as well as created his own work (Welcome, 2014, Imagetanz/brut Wien). In 2013, he was a danceWEB scholarship recipient at ImPulsTanz – Vienna International Dance Festival. Arttu lives and works in Vienna and in Helsinki.
Born in 1982 in Busan, Korea. In 2014 he took his Master in Korean National University of Art(KNUA). Previously, he studied contemporary dance (Bachelor) at Chung-Ang University. He has been working as a dancer and also as a choreographer. He won the Special Jury Award at the Seoul Choreography Festival (SCF) with the choreography Pattern-Body. And performed in Seoul, Busan, Shanghai, Bonn with Pattern_Body. Dong Uk has worked with choreographers Liquid Loft/Chris Haring, MIRA / Julia Riera, Jin-yeob Cha, Silke Z. / resistdance, NetworkAks, Trustdance Company as a freelance dancer and choreographer.
Colombian Dance Artist resident in Vienna. Graduated from the Communication/Audiovisual Studies Faculty of the Javeriana University (Bogotá). BA and MA of Arts in Contemporary Dance, Movement Research and Pedagogy of the Anton Bruckner University (Linz). He's worked in dance productions for Jerome Bel, Wee Company/Norway, David Zambrano, Martin Sonderkamp, D.ID, Editta Braun Company, Georg Blaschke, C.O.V., Elle Sofe, a.o. Dante joined Liquid Loft in 2017 for the performance series of Foreign Tongues.
As a choreographer, he recently joined two European funded Projects, the B-Project and Dancing Museums, both in collaboration with renowned Choreographic Centers and Museums in the UK/ IT/FR/NL/AT, such as the Louvre Museum (Paris) and The National Gallery (London).
Hannah is a freelance dancer from Australia who is based in Vienna.  Since 2012 Hannah has been dancing with the Elio Gervasi Dance Company.  In 2017 she began developing and touring her solo piece Enklave with Elio Gervasi.  Since 2017 Hannah has been working with Liquid Loft.  Hannah also regularly teaches ballet and contemporary classes as part of a year-long dance course in Vienna.
Katharina was born in Germany, graduated from SEAD, Salzburg, and was a DanceWEB scholarship recipient in 2009. She joined Liquid Loft in 2007 for the creation of The Posing Project.
Working as a dancer and performer in Germany, Austria and the Netherlands, Katharina has also been starring in creations by Georg Blaschke, Mara Mattuschka, Lara Kugelmann, Ingo Reulecke, Lukas Matthaei, Ayat Najafi, der Lubricat Theatre Company, Louise Wagner, Christoph Winkler, Anna Malunat, Franz Rogowski, Andreas Bode, the T.r.a.s.h. Dance Company and Tino Sehgal.
Was born in Vienna in 1983. She received her BA in Choreography from the ArtEZ- Institute of the Arts in Arnhem/ The Netherlands. In 2009 she received the danceweb scholarship at Impulstanz / Vienna. She has worked with a number of choreographers e.g. with Marcus Grolle, Yun Jung Kim, Michael Schmidt, Simone Truong, Davis Freeman and Mike O'Connor, who she has continuously collaborated with over the past 2 years.
Her own works include collaborations with Claudia Weissenbrunner, Agnieszka Dmochowska, Merel Roozen and sound- and videoartist Alex Kasses.
Luke Baio was born in Worcester, UK. In 2000 he graduated at the Northern School of Contemporary Dance/UK, then studied for one year at London Contemporary Dance School. He was a member of Richard Alston Dance Company from 2001-2006. Since 2007 he is living and working as a freelance dancer in Vienna, Austria. He collaborated with Liquid Loft / Chris Haring, Stadt Theater Klagenfurt, Niki Adler, Neue Oper Wien, Smafu Company, Liz King, Stephanie Cumming, Semper Oper Dresden and with Dominik Grünbühel, a.o. Some of his own creations, together with Dominik Grünbühel, include the performances "Dudes", "Dudes 2", "Shoot Me",the "Good Cop/Bad Cop" cycle, "Dudes Fuck Christmas" & "Ohne Nix".
After her studies in Sociology of Art and Culture at the Ecole des Hautes Etudes en Sciences Sociales from Marseille and Paris, Line Rousseau decides, in 2005, to start "A propic", an agency for the promotion of artists and dance companies in foreign countries.
The aim of "A PROPIC" is to help still unknown artists and companies to have a tour in Europe. Besides, "A propic" organised also collaboration between theatres in France and in the Netherlands, gives advices for international strategy to young artists and companies and to theatres.
Born in 1975. Michael studied Electrical Engineering at the HTL and after it, he participated as an extraordinary student at a directing class at Max Reinhardt Seminar/ Vienna. Afterwards: study of Digital Art at the University of Applied Arts/ Vienna. He has modern dance skills and works as a freelance photographer and filmmaker.
Born in Linz, living in Vienna.
Liquid since 05/2009.
Works (technical, organizing and/or assistances) with WUK, Georg Blaschke, Michael Turinsky, ensemble für städtebewohner, mayu kan, Beatboxx, Nomad Theatre, Verein Thearte, Dschungel Wien, Drama-X, Theater Phoenix, …
Was/is Rock- & Noise – Musician solo and w/ Blendwerk, ((( D I V ))), Braom!, Rupert's Jazz Construction, Go!Go!Gorillo, Thomas Ballhausen and sometimes still puts records on as DJ Pyroman.
Sometimes organizes some little DIY-MusicFestivals (fluid flame; what decent noise, probably)
Freelance production manager in the fields of performance and film. Studied International Business Relations in Eisenstadt and Brussels and Cultural Management in Barcelona. She received further training in Intercultural Communication, Conflict Management and Language Teaching. She has worked for Tanzquartier Wien, Wiener Festwochen, Steirischer Herbst, Szene Salzburg and collaborated with artists and directors such as Hubert Lepka / lawine torrèn (AT), Waxfactory (USA), CABULA6 (USA/AT), Christine Gaigg (AT), Lisa Hinterreithner (AT), Ali Samadi Ahadi (IR/DE), Tina Leisch (AT) and Jeremy Xido (USA/AT).  Next do the development and distribution of documentary film projects, she has been coordinating the script and sound department for the animation series "Talking Tom and Friends". Since 2007 she is the company manager of Liquid Loft.
Oliver Stummer Übersetzung
Aldo Giannotti Visual Artist
Alexander Gottfarb Dance
Annja Krautgasser Stage Design
Aymara Koch Production Assistant
Balé da Cidade de São Paulo Tanz
Balletto di Roma Tanz
Bert Könighofer Comics
Christian Höller Theory
Contemporary Ballet Moscow Tanz
David Payr Photography
Dialogue Dance Company Tanz
Elisabeth Bernroitner Production
Erwin Wurm Visual Artist
Fritz Ostermayer Texts, Theory
Giovanni Scarcella Dance
Günther Berger Sound Design
Hans Scheirl Visual Artist
Helmut Heiland Website
Ian Garside Dance
Jakob Lena Knebl VIsual Artist, Performance
Jessica Wyschka Management
Jin Xing Dance Company Tanz
Jin Xing Choreographer
Johnny Schoofs Dance
Julia Mach Dance
Julia Willms Video
Julia Cepp Costume
Katherina Zakravsky Theory
Kathryn Enright Dance
Klaus Obermaier Media Artist
Les Ballets de Monte-Carlo Tanz
Lisa D. Fashion Designer
Max Wahlkönig Costume
Mara Mattuschka Film
Matthew Smith Choreographic Assistant
Michel Blazy Visual Artist
Michaela Grill Artistic Consulting
Michi Trinh Website
Olaf Reinecke Dance
Oliver Bokan Video
Peter Rehberg Music
Petra Lepschi Grafikdesign
Phace Ensemble Musik
Radio Symphony Orchester Musik
Raquel Odena Dance
Roderich Madl Choreographic Consulting
Robert Tirpak Dance
Stefan Röhrle Kostüme
Simone Truong Dance
Andreas Spiegl Theory
Staatstheater Kassel Tanz
Stefan Grissemann Texte, Theorie
Sveta Schwin Light Assistance
Thales Weilinger Dance
Tom Hanslmaier Dance
Ulrika Kinn Svennson Dance
Uwe Mattheiss Texts, Theory
the company
Liquid Loft was founded in 2005 by choreographer Chris Haring together with musician Andreas Berger, dancer Stephanie Cumming and dramaturge Thomas Jelinek. Inspired by science-fiction literature and cyborg theory, Liquid Loft's early work reflects how our perception and bodies are transformed through visual media and the everyday use of technology. Through their method of deconstruction and reconstruction of both, the dancer's repertoire of movements and the perspectives of the perception of the body Liquid Loft frequently opened up new choreographic terrain in their past works. Their idiosyncratic imagery and symbolism, the distinctive acoustic stage sets and the high professional level of their dancers has earned Liquid Loft international acclaim and awards, such as the Golden Lion for Best Performance at the Venice Biennale. 
Liquid Loft Verein
Schönbrunnerstrasse 31/7
1050 Vienna
Austria
Liquid Loft is supported by: