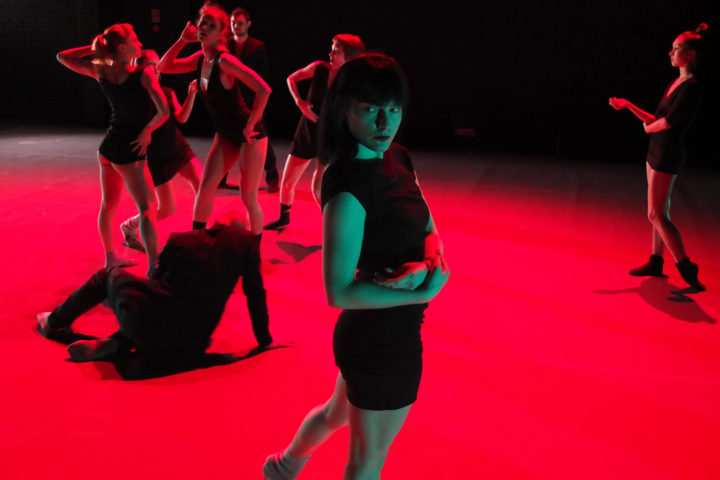 contemporary ballet moscow
frozen laugh
Frozen Laugh plays with the alienation of the body from itself and its environment, with frozen emotions and left-over expressions. It is a moving body-installation that deals with the side effect of laughing. In every culture a laugh has the connotation of happiness but it's actually also very close to crying, screaming, smirking or other expressions. Often, it is used as a mask to protect or manipulate.
laughing involves more than a hundred muscles and is therefore one of the most absurd dance-moves of the human body.
photos: c. haring
This work dives deeply into visual art and plastic art and is mainly inspired by the classical tradition of tableaux vivants. In Frozen Laugh these living pictures are brought into movement, but in order to intensify the impressions, we extend or repeat the actions and expressions through technics of looping, slow motion or cut-ups, as they are used in  stop motion pictures or in minimal music. In almost every real sculpture there is a hidden metaphor – and it manifests itself through the effect of freezing. This retention of time intensifies the character of the sculpture or changes it into the opposite.
mART Festival, Mogilev, BY
Russian Look festival, St.Petersburg
ISADORA Contemporary Dance Festival, Krasnoyarsk, RU
Dance Centre TsEKh, Moscow, RU
Dance Centre TsEKh, Moscow, RU
dates
Artistic Direction, Choreography: Chris Haring
Composition, Sound: Andreas Berger
Light Design: Thomas Jelinek
Performance: Dancers of Ballet Moscow:
Kamila Abuzova | Maria Bodrova | Konstantin Chelkaev | Evgenia Glazunova | Galina Grachiova | Irina Lobkova | Alexey Narotto | Olga Timoshenko | Alexander Shujsky
The project is realized within the framework of Austrian Cultural Season in Russia 2013/2014 and supported by Austrian Cultural Forum in Moscow and Raiffeisen Bank
credits
tv kultura, 8.5.2013
"Застывший смех" на сцене Центра имени Мейерхольда
http://tvkultura.ru/article/show/article_id/111589
Феномен человеческих эмоций – под скальпелем импровизации. Труппа театра «Балет Москва» представила на сцене Центра имени Мейерхольда постановку «Застывший смех». Как его охарактеризовали создатели – хореограф Крис Херинг и композитор Андреас Бергер – это междисциплинарный спектакль, в котором зрителю отводится роль не просто наблюдателя, а проводника энергии, заложенной и в артистах, и в самом сценическом пространстве. Рассказывают «Новости культуры».
Крис Херинг не пропускает ни одну гримерку: для артистов у него не только слова. Никогда еще труппа не смеялась так много. После этого проекта танцовщики достают смех из себя так же легко, как фокусник кролика из шляпы.
Крис Херинг не навязывал труппе концепты. Он за свободу импровизации – больше направлял, чем диктовал. В работу шли впечатления, наблюдения, ощущения, завязанные на смехе. Неудобные, раскачивающиеся движения трудно назвать танцем, это ожившие картины в которых больше сюра, чем реальности.
«Когда смеется человек, около ста мышц задействованы, – говорит Крис Херинг. – Вместе сo смехом получается новое движение, возникает динамика танца. Смех легко трансформировать в плач. У него много масок – вытащить их из танцовщиков была моя задача».
Музыку тоже традиционной не назовешь. Композитор и музыкант Андреас Бергер записал голоса, разговоры, смех танцоров, растянул – получил какофонию звуков, сложившихся после монтажа в мелодию, для уха непривычную.
Андреас известный охотник: в его архиве тысячи записей шорохов, звуков, голосов. Испанский смех, греческий плач, дыхания, рыдания попались в его ловушки.
«Я работал около десяти лет со звуками, – рассказывает композитор. – Со смехом работать сложнее технически – звук более интенсивный, но мы справились. Танцовщики отлично сыграли, все шло изнутри».
Час интенсивного смеха… Уже не смешно – грустно, уже не лицо – оскал. Крис словно вывернул эмоцию наизнанку, пригвоздил, распял, сорвал маску, бросил в глубину веков. «Говорил о барокко. О картинах, эмоциях, строил барочные костюмы, с переходами, смехом, плачем, оскалом», – говорит артист балета современной труппы театра «Балет Москва» Александр Шуйский.
Крис, с ямочками на щеках, смеющимися глазами, как хирург безжалостно вскрыл, казалось бы, самую легкую и понятную человеческую эмоцию – смех. Оказалось ничего не понятно, что это – манипуляция, защита, провокация…или просто радость.
reviews