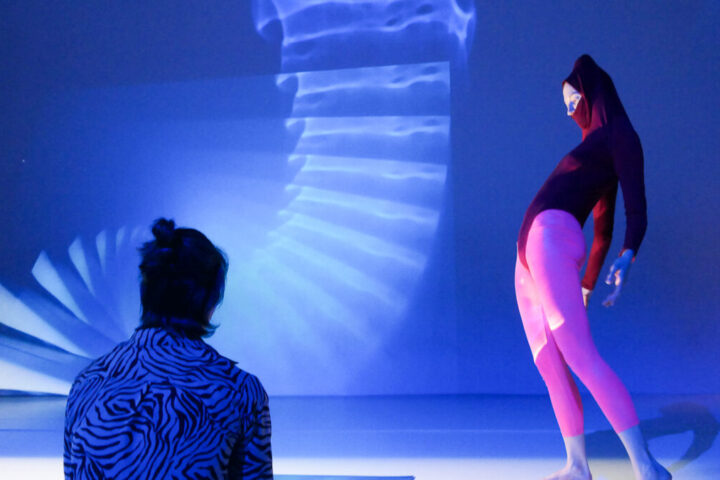 living in funny eternity _ L.I.F.E
Nothing less than life is at stake in Liquid Loft's latest production, but closely connected with it is also experience and survival. This time, in addition to six dance performers, there will also be a live band on stage in the form of the Viennese rock experimentalists Bulbul.
L.I.F.E. is a dream on live-screen! In this new constellation, musicians and dancers move in a hybrid space between stage and live video.
The stage of the Burgtheater becomes a "dream machine" in the form of a cinematograph. Film aesthetics and live performance merge to create a complex visual and atmospheric work.
A series of balancing acts on the tightrope of paradoxical conditions: the veiling as show and manifestation, the existential pain as science fiction bacchanal.
ImPulsTanz Vienna Int. Dance Festival / Burgtheater Wien, AT
ImPulsTanz Vienna Int. Dance Festival / Burgtheater Wien, AT
dates
Dance, Choreography: Luke Baio, Dong Uk Kim, Dante Murillo, Anna Maria Nowak, Breanna O'Mara, Hannah Timbrell
Live Band: Manfred Engelmayr, Roland Rathmair, Dieter Kern
Artistic Direction, Choreography: Chris Haring
Composition and Sound Concept: Andreas Berger
Light Design, Scenography: Thomas Jelinek
Theory: Stefan Grissemann, Sophie Reyer
Choreographic Assistance: Stephanie Cumming, Katherina Meves
Stage Management: Roman Harrer
Companie Management/ Production: Cornelia Lehner, Marlies Pucher
Videodocumentation: Michael Loizenbauer
Costumes: Stefan Röhrle
Distribution: APROPIC – Line Rousseau, Marion Gauvent, Lara van Lookeren

A co-production of ImPulsTanz Vienna International Dance Festival, CCAM / Scène Nationale de Vandœuvre and Liquid Loft
Liquid Loft is supported by the Cultural Department of the City of Vienna (MA 7) and the Austrian Federal Ministry of Arts and Culture, Civil Service and Sport (BMKOES) and SKE.

credits