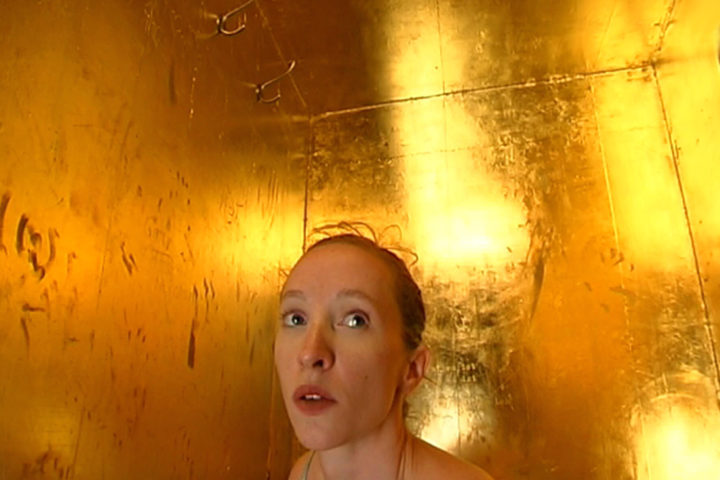 part time heroes
The search for fame's elevator goes up and down, the ego's bust and boom. Each character is isolated in his or her anachronistic, film-star dressing room, left alone, subjected to the sinister fittings: a hopelessly out-dated microphone, radio, crutches for communication. Each character gets a small chance to show that he or she alone is better at embodying that self, which is just as good as every other self. However, as though it were an uncanny copy machine of star production, the golden room, which houses the greatest striptease talent-since she constantly undress yet is never naked-generates a momentary double. The film checks these beings, isolated through their hero competition, into the lonely heart hotel where they eavesdrop on one another through thin walls, often over a film cut.
Frivolous encounters slip in. A helplessly obscene seduction attempt mutates to telephone terror, confirmed by the humorous play of the eyes from the other side. From out of the elevator, an elevator technician-a show master, so to speak, a running gag, a lascivious "cursor" in a boiler suit-creeps down the hallways. He alone seems to connect everything, but finds no one. Until the final take, a generous long shot in which all three heroes are left to their own showcases, whereby they attempt all together, each alone, to seduce their audience. Yet unimpressed passersby give our heroes the cold shoulder, making the camera on the other side of the street their only audience. The Department Store Dichter, furnished with technology from days gone by, lends eccentric historicity to one of the programmatic statements: "How do I become timeless?" that releases this outcry for fame in a hopeless but unique vitality.
text: k. zakravsky, translation: l. rosenblatt
Mara Mattuschka, Chris Haring
2007, 33 min 
Winner of Norman Award at Stuttgarter Filmwinter 2007
Direction: Mara Mattuschka & Chris Haring
Concept: Chris Haring
Cinematography: Sepp Nermuth
Editing: Mara Mattuschka
Sound: Andreas Berger – Glim
Director's Assistant: Christoph Parzer
Starring: Stephanie Cumming, Ulrika Kinn Swensson, Johnny Schoofs, Giovanni Scarcella
Distribution, Sales:  sixpackfilm
credits
Screenings
05.06.19
Metrokino Kulturhaus / Filmarchiv Austria
27.01.11
Mal Seh'n Kino Frankfurt
13.11.11
Österreichisches Kulturforum Bukarest, Center for Visual Introspection
25.06.10
New York Anthology Film Archives, Mara Mattuschka Special
08.04.10
Seoul 10 International Women's Film
02.07.10
Marseille 09 – Fidmarseille
06.11.09
Szcezcin Kana Theatre Centre
25.09.09
Gedok Stuttgart
24.07.09
Uherske Hradiste CZ, Summer Film School
26.06.09
La Rochelle Int. Film Festival
17.03.09
Diagonale Festival des österr. Films, Personale Mara Mattuschka.
22.04.08
Crossing Europe, Linz
23.01.08
37. Int. Filmfestival Rotterdam
18.01.08
Wand 5, Stuttgart
17.01.08
International Short Film Competition / 21th Stuttgart Filmwinter
12.12.07
Top Kino Vienna/ Mind the gap 7 pm
09.12.07
Festival Cinema Differentes, Mains d'Ouevre, Saint Ouen
06.12.07
10th annual Antimatter, Oaxaca, Mexico
05.12.07
Festival des Cinemas, Paris
17.10.07
51. Film Festival London
21.09.07
Animatter Film Festival, Victoria
14.06.07
Int. Videofestival Bochum
15.05.07
Vienna Independent VIS 07
03.05.07
53. Int. Kurzfilmtage Oberhausen
19.03.07
Diagonale – Festival des österreichischen Films
dates