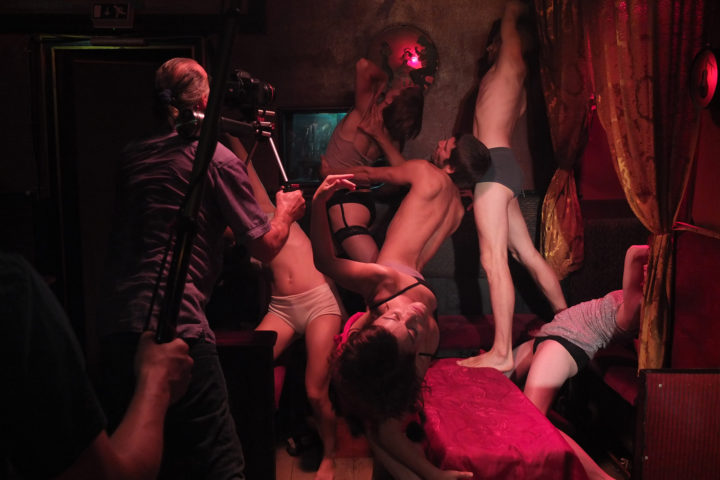 perfect garden (film)
In an occupied establishment – a kind of self-defined sub-cosmos of reality – there is a sensual search for lust and fulfillment taking place. Women and men dance, desire, interact; their perfectly choreographed body game becomes a symbiotic extension of an excessively hedonistic sub-conscious. Amidst it all a mafia boss seeks to take control of the establishment and finds the meaning of life in the process. Perfect Garden is a fabulously hypnotic film, utopian and realistic all at once.
text: diagonale
Premier: March 13th 2013, Diagonale Festival des Österreichischen Films
Duration: 80 Min.

Actors: Luke Baio Stephanie Cumming Anna Maria Nowak Raquel Odena Simone Truong Wild Woman: Kathryn Enright Biker: Ian Garside Cyclist: Thales Weilinger Mafia Boss: Alexander E. Fennon Chauffeur: Christoph Hackenberg Guitarist: Lukas Thöni Bodyguard: Richard Schütz Waiter: Benjamin Eder
A story by: Liquid Loft / Chris Haring & Mara Mattuschka
Based on The Perfect Garden Series by Liquid Loft
Directed by: Mara Mattuschka & Chris Haring
Sound Concept & Design: Andreas Berger
Director of Photography: Sepp Nermuth
Light Design: Dominik Danner
Director's Assistant: Christoph Parzer
Sound Engineers: Werner Beham, Eva Hausberger Set Photography: Elvira Faltermeier
Foam Installation: Michel Blazy
Assistants to Mara Mattuschka: Alexander E. Fennon, Raphael Nicholas
Technical Assistant: Roman Harrer
Light Assistant: Stephanie Hoffmann
Edited by: Mara Mattuschka
Executive Producers: Mara Mattuschka, Christoph Parzer
Producer Assistant: Max Glatzl
Coordination: Marlies Pucher
Supported by: Wien Kultur – Cultural Department of the City of Vienna BMUKK – Austrian Federal Ministry of Culture
Produced by: Minus Film – Mara Mattuschka Liquid Loft – Chris Haring nked – David Zudestorfer & Christoph Parzer
Shot at the Arena Bar Asian Restaurant Sunny Gasthaus zum Friedhof der Namenlosen
(c) Vienna 2013
credits
Screenings
05.06.19
Metrokino Kulturhaus / Filmarchiv Austria
30.09.15
The Different Faces of Mara Mattuschka / Filmcasino Vienna
03.11.14
Frauenfilmreihe München, DE
04. 09.14
L'Etrange Festival Paris, FR
27. 07.14 – 03.08.14
Nowe Horyzonty Film Festival / Wroclaw, PL
18.06.14
Int. Film Festival Edinburgh, UK
11.04.14
Concertgebouw Brugge, BE
08.04.14
Int. Frauenfilmfestival Dortmund / Köln, DE
28.01.14
Int. Film Festival Rotterdam, NL
25.01.14
Int. Film Festival Rotterdam, NL
24.01.14
Int. Film Festival Rotterdam, NL
22.01.14
Int. Film Festival Rotterdam, NL
15.03.13 
Diagonale Festival des Österreichischen Films, Graz, AT
13.03.13
Diagonale Festival des Österreichischen Films, Graz, AT
Première
dates