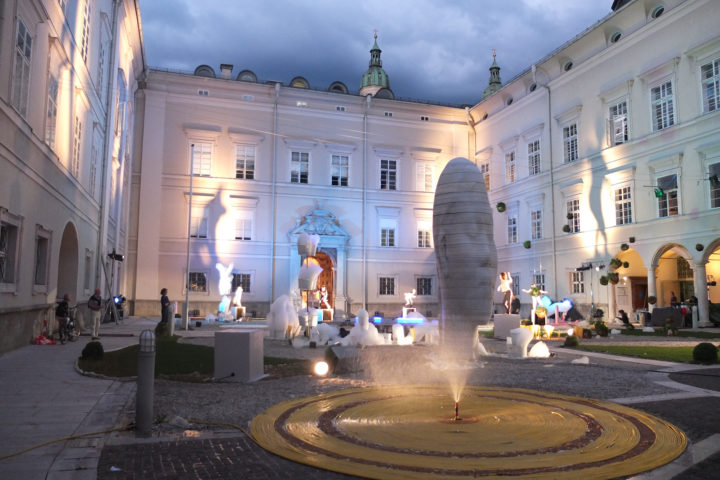 the perfect garden * installation
The Perfect Garden is a continuous process and research into the organic reciprocity between object installation, live performance and sound.
for different site-specific creations, michel blazy and liquid loft transform various locations into temporary biotopes, according to location, its architectural and other characteristics.
Out of organic materials such as lentils sprouts, glue, cotton, bathing foam, spaghetti flowers, agar-agar…Blazy's Second-Hand Paradises emerge and absurd characters arise out of them. Likewise, the soundscapes by Andreas Berger reflect the sounds of the growing visual materials, the dancers and the environment.
photos: c. haring
the perfect garden experiments with with movement and organic growth
The set by Michel Blazy follows this logic of growth. Along the way, we meet absurd, but vivid characters on stage. As abstract as these creatures may appear, they relentlessly carve their way through time and space. The things growing and thriving here metaphorically remind of economics. Like the way the economics of sensitivities climbs and grows into the bodies, and through the bodies. And there is no stopping the comfort as it starts nesting in these bodies, feeding on them and digesting them. The dancers follow this process of digesting possible identities, as do the soundscapes provided by Andreas Berger. These sounds never hesitate to incorporate a wide spectrum of compositional figures and processes as well as electronic particles and noises which play the field of associations and oscillate between a machinery of sensitivities, primal screams and soundscapes from everyday ambiances.
Sommerszene Salzburg, Hof Dietrichsruh
Sommerszene Salzburg, Hof Dietrichsruh
dates
Choreography, Artistic Direction: Chris Haring
Dance, Choreography: Stephanie Cumming, Kathryn Enright, Ian Garside, Anna Maria Nowak, Raquel Odena, Simone Truong, Thales Weilinger
Choreographic Assistance: Stephanie Cumming
Sound, Composition: Andreas Berger
Stage, Light, Dramaturgy: Thomas Jelinek
Set Design: Michel Blazy
Costume Design: Alexandra Trummer
Theory, Artistic Counselling: Andreas Spiegl
Production Management: Marlies Pucher
Production Assistant: Aymara Koch
International Positioning: Line Rousseau
Stage Management: Roman Harrer
Photo: David Payr
Video: Michael Loizenbauer
Co-Production Wellness: Impulstanz Vienna International Festival & Liquid Loft
Co-Production ThePerfectGarden: Impulstanz Vienna International Festival, Tanzquartier Wien, New Terretories Glasgow, tanz ist Festival Dornbirn, Szene Salzburg & Liquid Loft
Liquid Loft is supported by Stadt Wien MA7 Kultur and Bundesministerium für Unterricht, Kunst und Kultur
credits