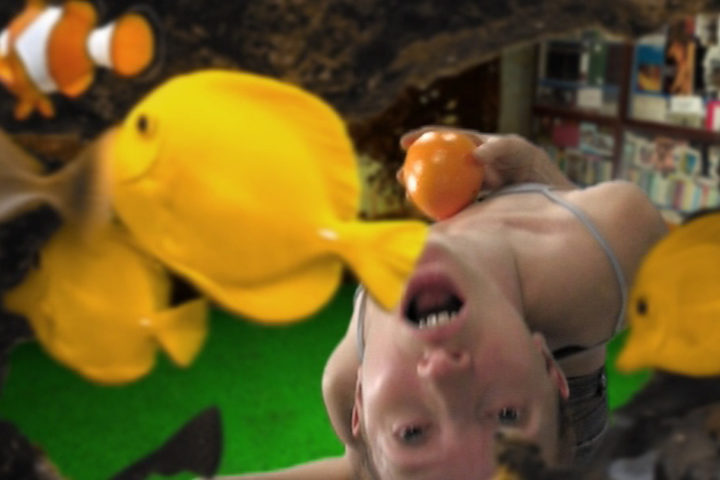 running sushi (film)
what the aquarium saw
"How should we explain the discrepancy between people's attitude toward the inner and outer life? Why is it so sharp?" In the contemporary Manga household, traversed by the slowly rolling conveyor belt of the raw fish snacks of everyday life, the descendants of Adam and Eve cower in eponymous costume under dispassionate, detached fish-like eyes. The visual focus is mainly somewhere under the non-existent ceiling of this claustrophobic yet boundless room. It is an angle usually only experienced when close to death. But these animated contemporaries, in not wholly conjugal clinch, presumably aren't mortal. They are too artificial for that, and too naked. Yet even their nakedness: what is it exactly? Not innocent; not arousing; the suitable flesh-coloured costume for close combat. Domestic life flourishes on a neon green artificial lawn. Even more artificial than the modern Asiatic style household: an impossible exterior creeps into the interior of the self-infatuated contact athletes.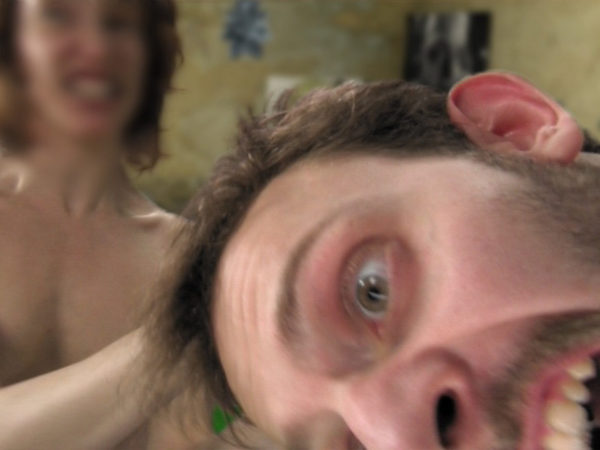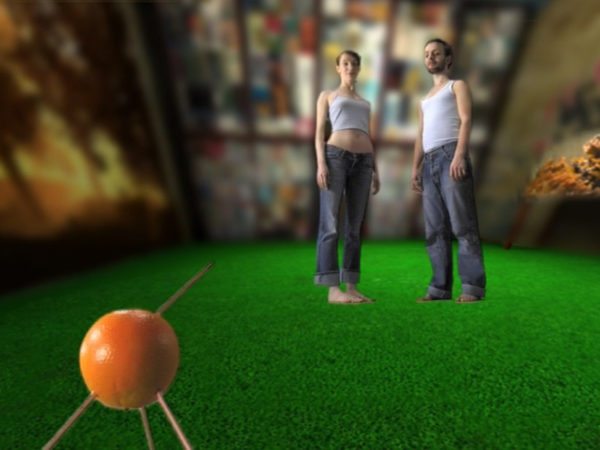 i think that depth is a myth
Green Box; that would be the metaphor for the new life on the surface – if it weren't so flat. How should I paint my kitchen? Every day the Green Box presents you with a different room, deer in back lighting, raw graffiti, and a tiled barrel vault for the home disco. You are on TV yourself or the aquarium watches you. Viewed through an aquarium everything is inside and everybody is at his or her own mercy. With hyperventilation screeching helplessly over the grotesque surface of all intimacies, a homage to Donald and Tweety, these animated heroes are without a private life, and without "private parts". The comic figure in us laughs at the genitals. Anna Freud would never have dreamed of such a thing…
text: katherina zakravsky
Based on the stage piece Running Sushi by Liquid Loft
Beta SP, DVD 28 min
(c) 2008
Best innovative experimental-, animation and shortfilm at Diagonale –
Festival des österreichischen Films 2008
Pre-Premiere March 5th 2008 Galerie Knoll
Vienna Premiere at Diagonale Festival des österreichischen Films 2008
Starring: Stephanie Cumming Johnny Schoofs
Story and Choreography: Chris Haring in collaboration with the performers
Text: Stephanie Cumming, Anna Freud, Johnny Schoofs
Directed by: Mara Mattuschka Chris Haring
Director of photography: Sepp Nermuth
Sound / Sound Concept: Glim (Andreas Berger)
Light: Werner Stibitz Marcus Novotny Assistant Director Christoph Parzer 3D roomdesign Sepp Nermuth Mara Mattuschka Editing, Aftereffects Mara Mattuschka Additional Voices David Kleinl Props Mathias Lenz
Continuity: Evgenia Anyebe
Thanks to: Thomas Jelinek

Supported by: Innovative Film Austria / BMUKK Kulturabteilung der Stadt Wien
Distribution: sixpack film
credits
Screenings
05.06.19
Metrokino Kulturhaus / Filmarchiv Austria
06.04.19
Wand5 / Filmwinter
08.08.14
espressofilm Impulstanz Special Liquid Loft, Vienna, Austria
07.09.13
Wand 5, Stuttgart, Germany
06.06.13
FILMFABRIK/Spielboden, Dornbirn, Austria
27.01.11
Frankfurt – Mal Seh'n Kino
24.11.10 – 28.11.10 
Bukarest – Intern. Experimental Film Festival
03.11.10
Wien proFRAU Austrian Artists in Minsk
22.07.10
Wroclaw 10 New Horizons Int. Film Festival
25.06.10
New York Anthology Film Archives, Mara Mattuschka Special
01.03.10
Chennai Women's Festival
03.12.09
Malmö Biograf Panora
06.11.09
Szczecin Kana Theatre Centre
12.09.09
Split Festival of New Film and Video
10.09.09
Seoul EXis
01.07.09
Cinedans Amsterdam
26.06.09
La Rochelle Int Film Festival
17.06.09
Hot Springs Arkansas Underground
12.06.09
Tokyo Inst. Culturel Franco-Japonais Hors Pistes
10.06.09
Seoul EXis
02.06.09
Hamburg 25. Int. Kurzfilm Festival
05.05.09
Wroclaw Int. Media Art Biennale
23.04.09
San Francisco 09 – Golden Gate Award Int.
27.03.09
Paris Hors Pistes Int. Medium-Length
17.03.09
Diagonale Festival des österr. Films, Personale Mara Mattuschka
22.01.09
Stuttgart Wand 5, 22. Filmwinter
26.04.08
Crossing Europe, Linz
02.04.08
Diagonale Festival des Österr. Films, Graz
05.03.08
Galerie Knoll, Wien
dates