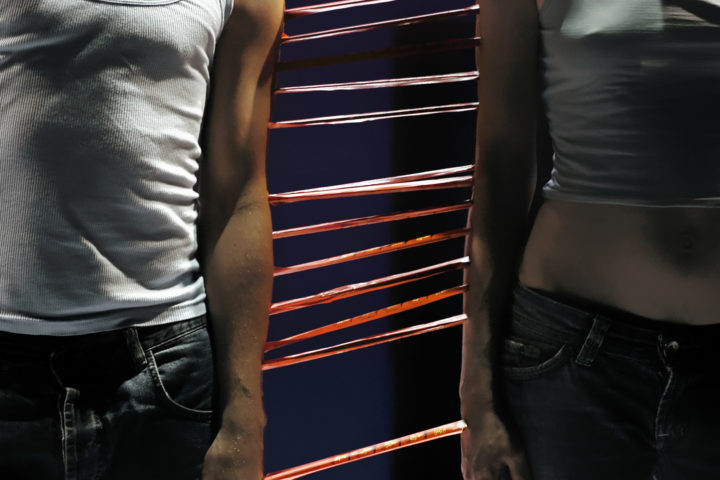 running sushi
the glance into the zen philosophy of a manga household: a sequential performance
Liquid Loft is looking for the path of the samurai on stage, Feng Shui is exercised in cyberspace and chopstick high-jump carries the performers into the classical pas de deux.
Running Sushi is not narrated as a linear story, but lets the audience decide for themselves the sequence of scenes on offer, similar to a restaurant of the same name, where guests can select "bits" and "pieces" themselves and thus put together their own menu. This results in a completely new script every evening. What remains is the "pulp fiction effect," which – regardless of the arrangement of the scenes – assembles the story in the viewer's mind afterwards.
photos: c. haring, m. loizenbauer
The term "superflat," coined in Japan above all by Takashi Murakami, not only describes the comic or manga as a form of communication in which the world of experience and "reality" have shifted almost exclusively to two-dimensional image surfaces, but also refers to the blurring of the dividing line between high culture and pop culture in the post-postmodern era.
Running Sushi is inspired by the Japanese art of anime. The performance runs like the image sequence of a manga comic. A woman and a man try to reanimate their private idyll, which has become senseless, and thus write a possible storyboard for a future existence on the screen. In Running Sushi, images are copied and further developed to return as their own two-dimensional real world.
Living Positions / Odeon Vienna, AT
The Dance Centre, Vancouver, CAN
The Dance Centre, Vancouver, CAN
The Dance Centre, Vancouver, CAN
Fluid Festival, Calgary, CA
Fluid Festival, Calgary, CA
Fluid Festival, Calgary, CA
Sir James Dunn Theatre, Halifax, CAN
Sir James Dunn Theatre, Halifax, CAN
Sir James Dunn Theatre, Halifax, CAN
Dance Week Festival, Rijeka, HR
Dance Week Festival, Zagreb, HR
Theatre National de Chaillot, Paris
Theatre National de Chaillot, Paris
Theatre National de Chaillot, Paris
International Dance Festival, Birmingham, UK
International Dance Festival, Birmingham, UK
Norrlands Operan, Umea, Sweden
Dansens Hus, Stockholm, SE
Museum of Art, Kochi, Japan
Festival Kontrapunkt, Szczecin, PL
Festival Kontrapunkt, Szczecin, PL
La Bâtie, Geneve, Switzerland
La Bâtie, Geneve, Switzerland
Choreographic Platform, Graz, AT
Teatro Palamostre, Udine, Italy
Theater im Depot, Dortmund, Germany
Theater im Depot, Dortmund, Germany
Republic Salzburg, Austria
Palais des Beaux Arts, Bruxelles, Belgium
Palais des Beaux Arts, Bruxelles, Belgium
Melkweg, Amsterdam, Netherlands
Melkweg, Amsterdam, Netherlands
Julidans, Amsterdam, Netherlands
Mousonturm Frankfurt a.M., DE
Mousonturm Frankfurt a.M., DE
ImPulsTanz Vienna International Dance Festival, AT
dates
Dance, Choreography: Stephanie Cumming, Johnny Schoofs
Artistic Direction, Concept, Choreography: Chris Haring
Music, Sound-Concept: Andreas Berger
Dramaturgy, Light Design: Thomas Jelinek
Production Management: Jessica Wyschka / Marlies Pucher
Set Design: Annja Krautgasser
Comics: Bert Könighofer
International Distribution: Line Rousseau, A PROPIC
Premiere: July 29th 2006, ImPulsTanz Festival Wien, Museumsquartier Arena 21
A co-production of ImPulsTanz Vienna International Dance Festival and Liquid Loft in co-operation with Choreographic Center Linz and TanzIst Festival Dornbirn.
Liquid Loft is supported by Kulturabteilung der Stadt Wien (MA7) and Bundesministerium für Kunst, Kultur, öffentlichen Dienst und Sport (BMKÖS).

credits
straight.com, 01.11.2013
/ Alexander Varty
Choreographed by Chris Haring, Stephanie Cumming, and Johnny Schoofs. A Liquid Loft production. At the Scotiabank Dance Centre on Thursday, October 31. Continues until November 2.
The advance buzz about Running Sushi was not all that enticing. According to some media reports, the show drew on western misconceptions about Japanese culture, illustrating that theme with "superflat" movement based on the highly stylized—and often highly sexualized—postures common to anime and manga. It all sounded rather dry.
But the beauty of dance is that at its best it can bring complex philosophical statements to gorgeous, fleshly life, and this was certainly the case with the latest effort from Vienna's Liquid Loft company. Yes, the cultural markers were there, most effectively in an opening sequence that featured dancers Stephanie Cumming and Johnny Schoofs mouthing hilarious misinterpretations of common Japanese terms, most having to do with food. (Wasabi, for instance, is a volcano that has become a popular tourist site.) Manga references were also threaded throughout the work, most often in Cumming's teasing sexuality and Schoofs's uncanny ability to scream with his mouth while smiling with his eyes.
But what the piece is really about transcends cultural and geographic boundaries, as Liquid Loft artistic director Chris Haring hinted at in his brief introductory remarks. Running Sushi depicts "a man and a woman trying to live together", he said, and that has to be as delicate a balancing act in Ottawa or Oman as it is in Osaka.
Of course the relationship drama carries its own set of potential pitfalls, and this production managed to skirt them all thanks to its disregard for conventional narrative structure, its super-smart staging, and truly exceptional performances from Cumming and Schoofs.
The title derives from the kind of "conveyor belt" sushi restaurant in which plates of fish and vinegared rice are sent coursing around the room, to be snatched up by eager diners (or left to become unappetizingly dry, as the case might be). In this instance, Cumming and Schoofs began their performance by circulating through the Dance Centre lobby with small plates of sushi; the order in which the snacks were snatched up determined the way the show's 12 vignettes were sequenced.
Adding to this element of John Cage–inspired indeterminacy was Andreas Berger's brilliant sound design: by placing three speakers immediately behind the performers, he was able to completely blur the lines between live and recorded sound. I'm still puzzling over what was spoken by the performers and what was lip-synched, although that task was made somewhat easier whenever Berger degraded the sound so that speech became a kind of abstract, albeit musical, mumbling. Lighting designer Thomas Jelinek matched Berger's easy elegance by illuminating the performers in remorseless "natural" light, auroral blues and greens, or incandescent crimson, while Annja Krautgasser's simple rectangular set resembled a gallery plinth, a modernist coffee table, or, most often, a big, stained bed.
That was the canvas on which Cumming and Schoofs delivered a vision of coupledom that was sexy, poignant, and hilarious, often all at the same time. Sequences of existential angst (with Schoofs lit from above so that his eyes were caverns of black despair) blurred into domestic nattering and then into an outrageous fantasy sequence in which Cumming shot sex rays from her breasts while Schoofs vibrated as if enjoying an electrical orgasm. Nudity was deployed, at first tastefully and then hilariously; sex roles were explored, then reversed. Chopsticks turned an orange into a Sputnik, and then became a lattice linking the two dancers together, only to fall away as Schoofs and Cumming moved inexorably apart.
I can't say that there was never a dull moment; Running Sushi would be stronger if it were perhaps two vignettes shorter. Other than that, though, it's joyously imaginative and yummy dance.
le devoir, 09.10.2013
article: LeDevoir_review.pdf  (8.95 MB)
/ Frédérique Doyon
montheatre.qc.ca, 08.10.2013
article: MonTheatre.qc.ca_RunningSushi_review.pdf  (118.88 KB)
/ David Lefebvre
danse nouvelles montréal, 05.10.2013
Manga and chopsticks await you at l'Usine C / Oliver Koomsatira 

Japanese culture has found a way to influence and inspire the lives North Americans for some time now. Think Japanime, Pokemon, Dragon Balls, The Last Samurai, Geisha, sushi! Hm… sushi. Well, in the case of choreographer Chris Haring from the company Liquid Loft, the Japanese way has even inspired the show Running Sushi which will be presented this week at l'Usine C the 8th to the 10th at 8pm. Dance News Montreal had the opportunity to exchange with the creator to learn more. First, how did the company come together? "Liquid Loft was founded by Chris Haring (choreographer), Stephanie Cumming (dancer), Andreas Berger (electronic musician) and Thomas Jelinek (dramaturg). After a while of working together we found out in 2004 that we like to work in this constellation, so we gave it a name. For every new show or series of performances or installation or movie we invite different dancers/performers to work with us."
When learning about their piece, one of the interesting aspects of it is the audience gets to choose in which order it will unfold. The choreographer tells us more about the interaction that takes place with the audience: "I think interactivity is exploited a lot in dance, at least in Europe. As a choreographer of course I like to involve the audience in the performance and try to bring the work closer to the people. In case of Running Sushi, interactivity just happens in the beginning of the show when the audience chooses the course of the show by picking up sushi pieces which are related to the scenes of the performance. The order how they take the single sushi piece is also the order of how the show will be performed on this evening." Which means, when you think about it, the show has the very strong probability of being radically different every single night! Now that's a refreshing twist for the audience and the performers, don't you think?
What can the audience expect by coming to see the Austrian company? "This performance is very much influenced by japanese manga culture and the superflat theory by Takashi Murakami. It resembles the image sequence of a Manga figure, trying to re-animate its private idyll, which has become senseless, in order to write a possible storyboard for a future existence on-screen." If you know and like the world of Manga, you might be able to understand many of the evening's references. If not, perhaps this show will awaken your appetite for it or sushi… hm… sushi. Did the company have the Dragon Balls to present a European take on Japanese culture in… Japan? As a matter of fact, they did: "3 Years ago we performed Running Sushi in the museum of art in Kochi (Japan). We were a bit worried that the japanese audience thinks we are making fun of them, but against our concerns they understood very well that the piece is full of irony and shows of how we middle Europeans understand and often misinterpret their culture. The problem of showing this performance there was more the nudity in some scenes and that we play with chopsticks on stage." Now you know what you ought not to do if you don't want to offend Nipponese folks on your next trip to the land of the rising sun: Don't walk around naked fooling around with chopsticks! As matter of fact, you might want to not try this anywhere other than in a contemporary dance show…
So, what's up next for this young and dynamic company after l'Usine C? "Montreal is the second stop of a Canada tour which started in Halifax and will continue to go to Calgary and Vancouver. After coming home to Austria in November, Liquid Loft has the premiere of a new piece beginning of December in Tanzquartier Vienna. It is the third part of a collaboration with french artist Michel Blazy called "the perfect garden" series. This performance series deals with the idea of artificial paradises such as the garden of earthly delights from Hieronymus Bosch or the 1914 written french novel Locus Solus from Raymond Russel." Who knows, perhaps Montrealers will have the opportunity of catching this piece soon. For more info about the show, visit the website of l'Usine C.
le devoir, 03.10.2013
Chris Haring / Running Sushi Un Japon de pacotille / Philippe Couture
Regard amusé sur la culture japonaise et exploration du devenir cybernétique du corps sont au menu de Running sushi, une pièce de l'Autrichien Chris Haring que nous offre l'Usine C pour trois petites soirées.
Ils sont deux sur scène et jouent, dans le désordre, des morceaux de quotidien dans lesquels ils expérimentent différents modes d'interaction dans un arrière-plan pseudo-japonais, parfois alimenté par la science-fiction. On dit que ce spectacle ausculte le couple. C'est en partie vrai. On raconte qu'il recrée l'univers manga. Ce n'est pas faux. On lui prête des intentions engagées en soulignant le fait qu'il critique le consumérisme ou la superficialité des relations humaines. Ce n'est pas l'objectif recherché, mais Running sushi, c'est tout de même un peu tout cela.
«Je pense que c'est notre ironie qui pousse les critiques à nous considérer comme des artistes engagés, dit le chorégraphe Chris Haring. Mais ce n'est pas notre intention. Nous sommes néanmoins partisans du sarcasme et nous sommes sceptiques devant notre société dans laquelle les gens se mettent en scène en se construisant une identité factice. Mais je vois plutôt cela, dans notre travail, comme une démarche pure de connaissance de soi: nos danseurs s'analysent, se scrutent, tentent de se comprendre.»
Cette démarche d'appropriation de soi passe d'abord par une tentative de capter les codes de la culture japonaise, un univers dans lequel les danseurs de la compagnie s'invitent sans tout à fait le maîtriser, y projetant leurs propres fantasmes. «Nous aimons beaucoup les mangas, explique Haring, à cause de leur structure simple. On a l'impression que cette structure permet toujours de considérer une situation selon différentes dimensions. Dans un manga, le mouvement, la parole et le langage invisible du corps sont tous contenus dans la même image. En danse, on s'inspire du manga pour travailler les lignes pures, pour observer le corps à partir de différentes lignes de perspective.»
Tant qu'à se prendre d'affection pour les mangas, ils ont voulu accaparer un autre phénomène populaire japonais et ont décidé de servir des sushis aux spectateurs en début de spectacle. «Le buffet de sushis nous a inspiré un mode narratif. Les sushis sont numérotés et on joue les scènes dans l'ordre dans lequel ils ont été mangés. L'idée derrière ça est de créer une narration parce qu'elle nous apparaît essentielle, et de déconstruire par le fait même cette narration pour que l'oeil du spectateur se concentre davantage sur le corps du danseur, qui est notre principal objet d'intérêt.»
Épris de science-fiction, Chris Haring et ses danseurs se plaisent surtout à imaginer l'évolution du corps humain. Ils ont rêvé de cyborgs, mais ont vite abandonné l'idée de travailler avec des prothèses ou autres extensions corporelles. Nous sommes déjà des post-cyborgs, pense le chorégraphe. «Les prothèses apparentes, la technologie ajoutée au corps, c'est du passé. Juste dans nos rapports avec les univers virtuels, qui seront bientôt complètement dématérialisés, sans appareils mobiles, on est de plus en plus dans une intégration corps/technologie parfaitement lisse. Ce qui est assez fascinant.»
Ironie, science-fiction et Japon de pacotille: on n'en demandait pas tant.
the montreal gazette, 27.09.2013  
article: TheMontrealGazette_27.09.13.pdf  (226.85 KB)
/ Viktor Swoboda
the chronical herald, halifax, 27.09.2011
Dance Review: Sushi takes manga and runs with it / Andrea NemetzIf you go hungry to Liquid Loft's show Running Sushi, you might be in luck.
Before the 75-minute dance performance begins, the performers — Stephanie Cumming and Johnny Schoofs — circulate around the audience assembled outside the Dunn Theatre, each bearing a tray of sushi. The dozen pieces of sushi are accompanied by signs reading dream, birth and house.
After the audience is let into the auditorium, they learn that the order in which the pieces of sushi were picked up is the order in which the delightfully unique work will be performed.
Described as a sequential show by choreographer Chris Haring of Austria, Running Sushi is a story of a manga couple told in 12 non-chronological scenes that are more performance art than dance. Manga are popular comics in Japan, and Haring was inspired by contemporary Japanese artist Takashi Murakami's Superflat post-modern art movement, which is influenced by manga and anime and examines Japanese consumer culture. The performers, dressed in comfy jeans and grey tank tops, take up positions on a long, low box, creating intriguing poses before the show even begins.
The name of each sequence is projected onto the box. On Thursday night, the show began with the fast-paced, free-flowing Drugs and ended with Pause, which provided a fitting and peaceful ending to the action-packed show. Some sequences are solos, some duets. Some include monologues, some conversations. The couple sometimes speak different lines at the same time, a conversational duel. Usually, but not always, the words are in English. The pieces vary in length, with accompaniment from near-silent soundscape to classical music. A few use props, and two are performed entirely in the nude. Each piece is set against a backdrop of intense light, in colours from green to magenta.
Many of the segments are humorous, some disturbing. In one, Schoofs shakes all over, his breathing quick and tortured as if he is having an asthma or panic attack. In another, Cumming recounts a particularly disturbing story of a dysfunctional family.
Murakami is famous for his toys, and much of Running Sushi has an enchanted air — the feeling of toys being played with or gambolling cartoon characters. And the soundscape by Glim (Andreas Berger) often had a precise mechanistic quality.
The movements of the performers throughout are exquisitely controlled. In one segment, Cumming has her back arched to perfection, so limber her head nearly touches her knees, for an unbelievably long time. Dreamer, performed in the nude, posed the dancers like Rodin sculptures, with limbs strategically placed for modesty. They seemed lit by the sun against a bright yellow background while music recalling the '60s and Hawaii played.
In a particularly memorable sequence, the dancers place pink glow sticks between them, shoulder to hip, like rungs on a ladder. Slowly, one by one, the sticks crash to the floor, accompanied by breaking noises.
Running Sushi, Live Art Dance's 2013-14 season opener, was met with a standing ovation, prolonged applause and hoots of approval at its opening Thursday. It wraps up Saturday at 8 p.m.
etat-critique.com / paris, 17.3.2011
« Sushi, sushi, qui veut des sushis ? » Sans aucun doute, Chris Haring et la compagnie Liquid Loft savent bien nous recevoir…
Chaque soir, l'ordre de la performance diffère selon l'ordre dans lequel les douze sushis, proposés avant le spectacle, ont été mangés par les spectateurs. Par cette démarche, Chris Haring a voulu démolir l'histoire pour être au plus près du mouvement et de la danse. Car même si le spectacle "Running sushi" a été conçu comme une performance, utilisant certains codes du théâtre et se présentant comme un spectacle, il s'agit bien de donner la place au corps et à sa personnalité, à la forme et au rythme. Nous suivons l'exploration amoureuse d'un couple de danseurs, de personnages mangas enfermés dans leur bande dessinée.
Cependant pas de direction linéaire prédéfinie ni de chronologie, la performance a été divisé en douze tableaux interchangeables. Chris Haring ne voulait pas que les spectateurs suivent une histoire mais qu'ils se concentrent sur des détails. Et pourtant, chaque spectateur se raconte sa propre histoire, indépendamment de l'ordre des scènes. Running sushi nous est présenté comme une bande dessinée manga mais en réalité, on perçoit un mélange de l'esthétique manga à notre vision naïve d'Européen sur la culture japonaise. La performance théâtrale- dansante et cette vision décalée déclenchent le rire tout au long de la performance…
Sans aucun doute, le spectacle "Running sushi" est l'un des spectacles à ne pas manquer du festival Anticodes, organisé par le Théâtre National de Chaillot .
la libération, 5.3.2011
AMANT. A deux pas, au Studio, l'Autrichien Chris Haring et la Canadienne Stephanie Cumming invitent à une ré- ception chic. Dans Running Sushi, qui fait référence à un mouvement d'art contemporain japonais, le superflat, ils adoptent des attitudes manga. Le couple est un personnage de bande dessinée et la danse très précise, un bel exercice de burlesque. Sur une bande- son, toujours en play back, le tandem dessine des situations ordinaires. On s'amuse beaucoup, notamment avec le personnage de l'amant à bout de souffle.
sueddeutsche zeitung, 07.08.2009
So flach wie tief; Tanzwerkstatt Europa: "Running Sushi" zur Eröffnung / Eva Elisabeth Fischer
Walter Heun knüpft Netze aus Leidenschaft. Da er im September das Tanzquartier Wien übernehmen wird, hat er bereits jetzt sein Netz nach Österreich ausgeworfen und ein besonders schlüpfriges Fischlein eingefangen. "Liquid Loft" nennt sich das Tänzer- und Choreographenkollektiv um Chris Haring, das zur Eröffnung der Tanzwerkstatt Europa in der Muffathalle sein "Running Sushi" serviert. Die Abfolge von zwölf Szenen richtet sich nach der Fischhappen-Folge, die das Publikum am jeweiligen Abend wählt, ist demnach bei jeder Vorstellung anders. "Liquid Loft" wird, so viel ist sicher, zum neuen Wanderpokal der internationalen Festivalszene, denn was Stephanie Cumming und Johnny Schoofs in perfekt getimter Comic-Manier aufführen, ist intelligent, schnell und witzig. Und am Ende – denn Wien bleibt schließlich Wien – öffnet sich für einen kurzen Blick der Abgrund, den das Stück wegen seiner bewussten Zweidimensionalität eigentlich gar nicht haben dürfte.
"Ich glaube, die Tiefe ist ein Mythos", sagt Cumming, bevor ein akustischer Tag des Zorns anbricht, in dieser Szenenfolge als finales Fanal ziemlich lustiger Episoden, in denen die beiden Tänzer wie aufgezogen agieren. Dank des zugespielten Textes, ihrer perfekt synchronisierten Mundbewegungen und illustrierenden Gesten, weiß man nicht, ob das Gesprochene sie bewegt oder sie das Gesprochene generieren. Sie gleichen Karaokefiguren, die beim mechanisierten koitalen Stellungskampf ebenso steril bleiben wie bei einer Horror-Nacktpantomime. Rote Essstäbchen verbinden sie zu lebenden Skulpturen, beige Essstäbchen zaubern ihnen Frisuren – und Wasabi, das wissen wir jetzt, ist eine Krankheit. Der Irrwitz von "Running Sushi" manifestiert sich in der Live-Rekonstruktion von Mangas und MTV, immer schön platt an der Oberfläche eines mentalen Flachbildschirms entlang. What you see is what you get – und das ist toll, in diesem Fall.
tanznet.de, 07.08.2009
Starker Auftakt / Malve Gradinger
(English translation below)
Mögen Sie Sushis? Ich nicht. Aber das "Running Sushi" von Österreichs Performer-King Chris Haring war jetzt ein starker Auftakt bei der 19. Münchner Tanzwerkstatt Europa. Dass Zuschauer durch Wahl eines (aus zwölf) dieser handgerollten Fisch & Reis-Happen den Ablauf der zwölf Stück-Szenen bestimmen, bleibt fürs Publikum zwar ohne spürbaren Zugewinn. Aber Haring hat in diesem Stück bewusst alles zitiert und sich anverwandelt, was der postmoderne Tanz an kreativen Strategien entwickelt hat: die Zufalls-Techniken des gerade verstorbenen US-Altmeisters Merce Cunningham, das synchrone Ausführen von Sprechen und Tanzen der großen Trisha Brown, die Grenzgänge hin zu bildender Kunst und Theater. Und schließlich, und das wirkt verblüffend neu, hat Haring sich noch am japanischen Manga-Comic orientiert. Seine exzellenten Tänzerdarsteller Stephanie Cumming und Johnny Schoofs mutieren zum Live-Manga-Pärchen zwischen Liebeslust und Eheknatsch, zwischen Hoffnung aufs Eigenheim und Abdriften ins Drogenfieber.
Aus ihrer knienden Wartehaltung an den Schmalseiten einer Art Nô-Bühne betreten sie wechselweise oder gemeinsam das karge Plateau und starten ihr Körpertheater, gestenwild, total abgedreht, dabei uhrwerkspräzise. Jetzt als von rosigem Licht übergossenes kitschsüßes US-Popsong-Duo im Nackedei-Kostüm, dann zu whack, poing, crash, bang des Soundtracks zwei Sparring-Partner. Sie bewegen jeden Körperteil ruckartig isoliert, Schulter hochgezogen, Arm zeigend ausgestreckt, Hüfte seitlich ausgestellt – und das oft in einem Affentempo -, um dann zu flächigen Foto-Posen und Skulpturen einzufrieren. Wenn sie flüstern, reden, schreien, schnurrt die Sprache weg von dem, was sie körperlich andeuten.
Gesagtes und Gemeintes fallen auseinander. Spätestens dann ist klar, dass Haring und sein Kollektiv Liquid Loft nicht nur ausgefuchste Theatertechniker, nicht nur blendende Entertainer sind. Diese witzigen, dadaistischen Bewegungs-Sushis aus der Welt der Comics sind auch sarkastischer Kommentar zu unserer kulturell verflachenden postpostmodernen Zeit.
tanznet.de, 07.08.2009
Starker Auftakt / Malve Gradinger
(Translation from German)
Do you like Sushi? Well, I don't. But "Running Sushi", by Austria's performer-king Chris Haring proved to be a very strong opening for the 19th Münchner Tanzwerkstatt Europa. The fact that the members of the audience decide the sequence of the twelve scenes, by picking one (of twelve) of those hand-rolled morsels of Fish & Rice, does not provide a noticeable gain for the spectators. But Haring, in his piece, very thoughtfully cites and makes use of the whole set of creative strategies that postmodern dance has developed: The method of random by US-Veteran Merce Cunningham, who just recently passed away, the synchronous execution of speaking and dancing by the great Trisha Brown, the crossing of boarders with the applied arts and the theater. And finally, and this seems intriguingly new, Haring employs characteristics from Japanese Manga-Cartoons. His excellent dancers/performers Stephanie Cumming and Johnny Schoofs mutate into a real-life Manga-couple in the thrall of love and lust vs. marital-skirmish, between hope of making a home and drifting into drug-fever. From their waiting position, kneeling at the sides of a sort of Nô-Stage they enter that dire plateau, sometimes together, then again taking turns, and start their bodily theater: full of gestures, in total overdrive yet with the precision of a clockmaker. One moment a kitschy-sweet US-Popsong-Duo in their birth-suits and drenched in pink light, the next moment – while the soundtrack goes whack, boing, crash, bang – they are two sparring-partners. They move each part of their body in sudden, isolated jerks, shoulders pulled up, arm stretched up pointingly, leaning out with their hips and all that often at breakneck speed, – only to freeze into two-dimensional photo-poses and sculptures. When they whisper, talk, scream, language purrs away from what they insinuate with their bodies. What is said and what is meant drift apart. By then it is clear, that Haring and his collective, Liquid Loft, are not only wily technicians of the theater or splendid entertainers. These witty, Dadaistic pieces of movement-Sushi from the world of cartoons are very much a sarcastic commentary about the increasing shallowness of culture in our postmodern time.
non solo cinema, online, 03.08.2008
Running Sushi di Chris Haring – Il coreografo austriaco scherza sul rapporto uomo-donna ispirandosi ai manga giapponesi / Elena Casadoro
Avete presente i sushi bar dove i pezzetti di pesce crudo in esposizione vengono fatti scorrere intorno al bancone? Si chiamano "running sushi", e in Giappone sono comunissimi, come ormai quasi in tutta Europa. Da questo tipo di ristorante prende il titolo l'ultimo lavoro del coreografo austriaco Chris Haring, vincitore del Leone d'oro alla Biennale Danza 2007. Lo spettacolo, ispirato alla cultura giapponese del sushi e dei manga, è stato presentato mercoledì scorso in prima nazionale a Bassano, nelle spettacolari Bolle realizzate da Fuksas per l'azienda Nardini.
Running sushi è uno spettacolo di teatrodanza originale e divertente, per due soli attori. E' articolato in 12 brevi scene indipendenti, la cui sequenza cambia ad ogni replica secondo un'estrazione casuale del pubblico prima che lo spettacolo inizi. Running sushi è così ogni volta unico e irripetibile, e a Bassano, questa unicità è stata esaltata dal gioco di vuoti e di pieni della meravigliosa struttura in vetro e cemento che l'ha ospitato.
Nonostante il titolo, la cultura giapponese, resa con pochi elementi – come i bastoncini per mangiare il sushi – resta comunque sullo sfondo, perché protagonista indiscusso è il rapporto tra uomo e donna, visto nelle sue sfaccettature e nei suoi aspetti spesso tragicomici. Haring ci mostra con sapiente ironia le varie fasi del rapporto tra i sessi, dagli sguardi incantati degli innamorati, alla passione carnale, fino alla noia e all'esasperazione, e si diverte scherzando sui luoghi comuni. E' la storia dell'uomo e della donna, così uguali e così diversi, dai tempi di Adamo ed Eva, cacciati dall'Eden per aver mangiato il frutto proibito, ai giorni nostri.
I due ballerini, vestiti allo stesso modo e simili anche nella corporatura, alternano la danza contemporanea ad una recitazione ironica, ispirata al fumetto manga. I dialoghi, quando ci sono, sono vuoti, pure sonorità. La colonna sonora di Running sushi è un misto di suoni e atmosfere uniche, un mix riuscito che arriva a mescolare la primavera di Vivaldi con la minimal techno senza mai perdere intensità. Elemento distintivo del lavoro di Chris Haring è proprio la ricerca sul suono. Ma in generale c'è un lungo lavoro di ricerca dietro ad ogni spettacolo, che parte dalla danza per sconfinare nel teatro e nella visual art: il suo team non è composto di soli ballerini, e la compagnia Liquid Loft è una vera e propria fucina, con musicisti, grafici, artisti e attori. La forza degli spettacoli di Haring è proprio la carica innovativa e originale che lo scorso anno lo ha portato a vincere il Leone d'Oro a Venezia, e Running sushi ne è una nuova conferma.
la liberation / festival de 7 collines, st. etienne, 8.6.2008
article: LaLiberation_RunningSushi_08 _07_2008.pdf  (339.97 KB)
accesstodance.de, 14.08.2007
Ein Satz fällt zu Boden und wird zertreten / Nora Abdel Rahman
2009 bezeichnet einen Wendepunkt für die Tanzwelt. Diesen Sommer ist der große Tanz-, Kunst- und Technik-Virtuose Merce Cunningham verstorben, ebenso Pina Bausch, die Grande Dame des deutschen Tanztheaters. Und vor 100 Jahren irritierte Vaslav Nijinsky von den Ballets Russes das Pariser Publikum. Bleibt also zu fragen, was den zeitgenössischen Tanz momentan bewegt. In München gibt die Tanzwerkstatt Europa darüber Auskunft und zeigt Arbeiten, die Sprache und Körper in Spannung halten. So verfolgt "Running Sushi" von der österreichischen Performance-Gruppe Liquid Loft ein Tanzmenü, zusammengesetzt aus verschiedenen Gängen und mit Namen wie lover, drugs, manga oder birth. Ein Tänzer und eine Tänzerin setzen die einzelnen Gänge in präzise abgehackte Bewegung um, dem japanischen Manga abgeschaut. Auf der Tonspur und aus den Mündern des Paars erklingen Sätze, die den Menüpunkt unterstreichen. Dabei gerät Sprache und Bewegung immer wieder außer Kontrolle. Witzige, erotische absurde oder gewalttätige Geräusch- und Tanzkaskaden entstehen in der Entgleisung. So mechanisch eine Bewegung und so trocken und emotionslos eine Satzfolge verlaufen kann, beide Ausdrucksformen lassen in der akustischen und gestischen Entstellung ihre enge Koppelung durchscheinen.
the jerusalem post, 27.05.2007
Running Sushi Liquid Loft Company (Austria) Jerusalem / Ora Brafman
This dance is about the diet of low value cultural food that we consume routinely, which can never really satisfy the unrest within. It starts with a morsel of sushi as a metaphor. A white low platform on center stage serves as an arena on which the 12 acts of "Running Sushi" are enacted in an order chosen by 12 audience members who pick sushi off a plate. This chance order is already a tongue in cheek homage to American choreographer Merce Cunningham, who used a similar technique based on the Chinese book of chance, the I Ching, half a century ago. Choreographer Chris Haring, dancers Stephanie Cumming and Johnny Schoofs, Thomas Jelinek the dramaturge and sound designers Glim/Andreas Berger, are all equal contributors to this sharp social commentary. Amazingly, the dancers' movement phrases tightly synched with sound effects, create a most sophisticated picture with the simplest stage means. This picture sums up all of the fleeting images evoked by the dancers, built layer after layer in each of the 12 short scenes that are full to the brim with hinted comments about contemporary life. It was a tasty, most witty, and rather humorous.
frankfurter rundschau, 13.03.2007
Die den Manga tanzen / Sylvia Staude
(English translation below)
Running Sushi beginnt damit, dass die beiden Darsteller den Zuschauern ein Dutzend Sushis anbieten, auf zwei Platten angerichtet. Zu jedem Sushi gehört eine Karte mit einem Wort, und in der Reihenfolge, in der nach den Häppchen gegriffen wird, werden anschließend die zwölf Szenen des Tanzstückes gezeigt.
"Dance": das letzte Häppchen
Der erste Running Sushi-Abend in Frankfurt, beim Gastspiel im Mousonturm, beginnt mit der Szene "Birth". Die Tänzer – die außergewöhnlichen Stephanie Cummings und Johnny Schoofs als Comic-Paar am Rande des Nervenzusammenbruchs – versichern später, das sei noch nie der Fall gewesen. Sie sind gar nicht glücklich mit "Birth" am Anfang: Sie sind nackt in dieser Szene, das haben sie lieber irgendwo in der Mitte. Auch das Ende finden sie an diesem Abend "nicht ideal": Die Karte des zuletzt genommenen Sushi war "Dance". Die Rezensentin weiß das, weil sie sich das letzte Häppchen gegriffen hat. Die zwölf Szenen-Titel findet das Publikum zwar auf dem Programmblatt, aber es muss raten, welcher Titel zu welchem Bühnengeschehen gehört.
Das regt die Fantasie zusätzlich an. Die bei Liquid Loft Freiraum bekommt, obwohl die Stücke minimalistisch, fast streng sind. Die Form, in der sich diesmal alles bewegt, ist vom japanischen Comic, dem Manga, beeinflusst. Es sind gut lesbare Bewegungen, manchmal so schnell wie beim fast forward, und der Musiker Andreas Berger hat dazu ein Musik- und Geräuschkonzept entwickelt, das ähnlich wie Sprechblasen funktioniert, in denen etwa steht: Zonggg, Kraacks, Wuschschsch … Wenn eine Szene beginnt, betreten die Darsteller ein längliches, kühl wie Eis leuchtendes Podest, sie agieren nur auf diesem Streifen. Auch die Choreografie strebt nach Flächigkeit, nach der Zweidimensionalität von Comicfiguren.
Chris Haring ist einer der wenigen, der sich einerseits auszukennen scheint mit allen technischen (Theater-)Spielereien, die sich heute bieten, sie andererseits aber immer mit Bedacht einsetzt. Der zuallererst ein Formbewusstsein hat, einer Idee, einer Linie folgt. Da gibt es keine Videoschnipsel, damit man halt auch ein bisschen Video drin hat. Seine Choreografien sind nicht selten witzig, aber nie albern. Gerade auch in ihren überdrehten Momenten fordern sie alles an Präzision. Da kippt kein Essstäbchen um, ohne dass es so gewollt ist.
Ähnlich wie Harings im vergangenen Jahr hier gezeigtes Stück My Private Body-shop betrachtet Running Sushi die Verformungen, Probleme, die Beschleunigung des Alltags durchaus kritisch – und hält doch Abstand zu jeder Botschaft. Sein Paar schlägt sich und verträgt sich, träumt vom Erfolg, von Zeiten großen Wohlstands. Träumt weiter, denkt man da, und hat ein bisschen Mitleid. Selbst die Comic-Welt ist heute nicht mehr in Ordnung, wie gerade zu lesen war: Captain America wurde erschossen.
frankfurter rundschau, 13.03.2007
Dancing the Manga / Sylvia Staude
(Translation from German)
Running Sushi begins with the two performers offering a dozen pieces of Sushi, arranged on two plates, to the audience. Each piece of Sushi has a corresponding card with a word upon it. The order, in which the pieces of Sushi are taken, decides the sequence of the piece's twelve scenes.
"Dance": the last bit
On the first night of their guest performance at the Mousonturm in Frankfurt, Running Sushi starts out with the scene "Birth". The dancers – the extra-ordinary Stephanie Cumming and Johnny Schoofs as a cartoon-couple on the brink of a nervous breakdown – assure us later that this has never before been the case. They are not too happy about starting with "Birth": They perform the scene in the nude, which they feel more comfortable with somewhere in the middle of the performance. And they think the end wasn't "ideal" either, that night. The card from the piece of sushi taken last was "Dance". The reviewer knows this, because she took the last morsel. The audience knows the titles of the twelve scenes from the program-folder, but is compelled to guess which title describes what part of the happenings on stage.
This stimulates the minds further. Imaginations get plenty of space from Liquid Loft albeit their performances being very minimalist, even stern. The style everything adheres to is inspired by Manga, the Japanese comic-books. The movements can be well read, even though sometimes they are very quick – almost like fast forward, and to this, musician Andreas Berger developed a music- and sound-concept that mimics the function of speech bubbles containing things like: Zonggg, Craack or Kerplosh…
At the beginning of each scene, the performers enter a pedestal of oblong shape, which shines in an ice like color. And all their actions take place on this small strip. The choreography aims at creating a likeness to a canvas, the two-dimensional world of cartoon characters.
Chris Haring is obviously one of the few who are familiar with all the technical effects of the theater available today, but yet he uses caution in where to apply them. His concern for form comes first; there is always a line he follows. There are no video-snippets, just to feature a little bit of video as well. His choreographies often contain humor, but they are never inane. And they require utter precision even – or especially – in their most keyed up moments. There is not even a tilting chopstick unless it's intended. In a similar vein to My Private Body-shop, which was shown here last year, Running Sushi examines the deformations, the problems, the acceleration of everyday life in a critical way. And still keeps away from sending out messages. Its protagonists beat each other and get along again, dreams of success, from times of great prosperity. And one has to think: 'dream on' and feel some compassion. Even the world of cartoons is no longer all right. We just read the news: Captain America was shot.
frankfurter neue presse, 13.03.07
Alles doch nur Sushi
(English translation below)
Eine Chronologie der Ereignisse gibt es nicht. Die lässt der Choreograf Chris Haring jedes Mal vom Publikum bestimmen. Sushi eben. Somit ist jede Vorstellung auf dem kleinen, weißen Podest anders, wenn die Tänzer Stephanie Cumming und Johnny Schoofs in 12 dichten Szenen die Verhaltensweisen von Paaren oder Menschen in Beziehung servieren. Welche Szene auf welche folgt ist letztlich Zufall. Es ist bemerkenswert, dass Harings ebenso groteskes wie komisches Beziehungsduett nie in vorgeformten und klischierten Bildern stecken bleibt, und dennoch all die bekannten Beziehungs- und also auch Konfliktmuster im Kopf des Zuschauers aktiviert. Die Frau macht dem Mann den Mund mit einer Orange wässrig und scheint erstaunt, als er ebenfalls beginnt, genüsslich an einer zu lutschen. Mit Stäbchen kämpft sie gegen die Überforderungen und Zumutungen des Alltags. Mit Stäbchen bauen beide eine Art Leiter zwischen den Armen, die jedoch mit jeder kleinsten unvorsichtigen Bewegung zerfallen muss und auch zerfällt. Um Sex geht es auch – also irgendwann auch um den entzückenden Nachwuchs. Die meist zweidimensionalen Bewegungen führen Cumming und Schoofs mit erschreckender Präzision aus. Sie bewegen sich abgehackt als würde ein Film langsamer ablaufen, um den Blick des Zuschauers dafür zu schärfen, wie eine Sequenz aus einzelnen Bildern entsteht. Perfekt bewegen sich auch ihre Münder zu den nicht immer verständlichen Texten vom Band. Haltung und Mimik sind dafür umso beredter.
frankfurter neue presse, 13.03.07
Alles doch nur Sushi
(Translation from German)
Everything is but Sushi. A chronology of events doesn't exist. Rather it is – so devised by choreographer Chris Haring – randomly destined by the audience for each performance. This way each show, where Stephanie Cummings and Johnny Schoofs demonstrate behavioral patterns of couples or people in relationships in twelve dense scenes on the small, white pedestal, is different. The sequence of scenes is ultimately left to chance. It's remarkable how Haring's relationship-duet which is as grotesque as it is comical, never gets stuck in preformed pictures or clichés, and yet still succeeds in triggering off associations with all the well-known patterns of relationships, including conflicts, in the spectators head. The woman makes the man's mouth watery with an orange, yet seems startled, when he begins to delightedly suck one as well. She fights with chopsticks against the excessive demands and impositions of everyday life. And with chopsticks they jointly build a ladder between their arms. However, this ladder is doomed to break apart through the first carefree small movement of theirs, and of course eventually does. It's also about sex – and thus, of course, at some time about the charming offspring. Cummings and Schoofs execute the, mostly, two-dimensional movements with frightening precision, in jerky movements – like a film running slower to sharpen the viewers eye for the creation of a sequence from single frames. Their lips move in perfect sync with the, not always comprehensible, playback voices, while their posture and facial expressions are all the more eloquent.
suedkurier.de, 30.04.2007
Tanz der lebenden Comicfiguren / Harald Ruppert
(English translation below)
Wie in einer asiatischen Zeremonie, in der jede Geste wohl gesetzt ist: "Running Sushi" im Kiesel.
"Mein einziger Rat an den verwirrten Zuschauer ist, den Film mit dem Herzen zu sehen und sich dabei ganz auf seine persönlichen Intuitionen zu verlassen. Denen sollte man nie misstrauen." So sprach der Regisseur David Lynch unlängst über seinen rätselhaften neuen Film "Inland Empire", und man tut gut daran, seinen Ratschlag auch auf "Running Sushi" anzuwenden.
Die Choreographie von Chris Haring, getanzt von Stephanie Cumming und Johnny Schoofs, ist schräg, grotesk, verwirrend – ein getanzter Manga-Comic, der alle Erwartungen sprengt, weil er sich nicht um Konventionen kümmert. An die Stelle einer erzählten Geschichte treten Sequenzen, die in ihrer Reihenfolge beliebig sind. Noch in seinem Humor besitzt das Tanzpaar eine monströse Fremdartigkeit, weil es sich von Grund auf in einer vollkommen eigenen Realität bewegt.
Als Besucher fühlt man sich wie ein Ethnologe, der rätselnd vor einer fremden Kultur steht: Wie in einer asiatischen Zeremonie, in der jede Geste wohl gesetzt ist, sitzen sich Schoofs und Cumming an den Enden der weißen Tanz-Plattform gegenüber. Hier sammeln sie sich und hierher kehren sie nach jeder ihrer Begegnungen wieder zurück. Die beiden Tänzer verkörpern lebende Comic- oder Zeichentrickfiguren und als solche übernehmen sie die Ästhetik des Mediums, die für diese Kunstformen gilt. So werden sie zu Wesen mit verfremdeten menschlichen Verhaltensformen. Diese sind aus dem Zusammenhang gerissen und wirken dadurch skurril, oder sie werden wie in einem zu schnell ablaufenden Film grotesk auf die Spitze getrieben.
In "Running Sushi" ist die immer schneller werdende Technik durch den Menschen gegangen – auch in der Rede, wo die Tonspur die eigene Sprache ersetzt: Cumming und Schoofs bewegen in oft rasendem Tempo die Lippen zu Texten vom Band, so wie Trickfilmfiguren, die mechanisch ihre Münder öffnen.
"Running Sushi" gelingt zu einem guten Teil Satire auf das Allzumenschliche. Da ist etwa die Scham vor der Nacktheit: Ohne eine Faser am Leib begegnen die beiden Tänzer einander auf der Bühne und stoßen tierische Geräusch-Orkane des Entsetzens aus – über die eigene Nacktheit und die des anderen. Plakative Überspitzung wird hier eingesetzt, um Tabubereiche auf der Bühne überhaupt behandelbar zu machen: Das Publikum bricht in Gelächter aus, wodurch jeder Unterstellung, die Choreographie sei schlüpfrig, der Wind aus den Segeln genommen wird. Nicht minder skurril eine weitere Szene: die Tanzpartner definieren wie ein Lexikon trockene Begrifflichkeiten, während ihre (bekleideten) Körper es zugleich miteinander treiben. Was nicht zusammenpasst, wird in "Running Sushi" so zum Ganzen gefügt, und umgekehrt widmet sich die Choreographie mit kindlicher Freude dem Elementaren.
Johnny Schoofs gibt dem Basteltrieb nach: Essstäbchen bohrt er in eine Orange und schafft so ein skurriles Objekt. Absichtlich läuft der Witz ins Leere, der Wunsch nach Sinn wird untergraben, das Publikum verwundert zurückgelassen – und es bedankt sich zuletzt trotzdem mit einer Applaus-Lawine, die garantiert nicht vom Band kommt.
suedkurier.de, 30.04.2007
Dance of the living cartoon characters / Harald Ruppert
(translation from German)
Like an Asian ceremony where each gesture is well put: "Running Sushi"at the Kiesel. "My only advice to a confused viewer is, to watch the movie with his heart and trust his personal intuitions. One should never mistrust those. "This is a recent quote by director David Lynch about his mysterious new movie "Inland Empire", and it should prove a wise tactic to apply to when seeing "Running Sushi". Its choreography by Chris Haring, preformed by Stephanie Cumming and Johnny Schoofs is weird, grotesque, confusing – a Manga turned into dance that goes beyond all expectations because it doesn't care for conventions. There is no straight narrative; instead there are scenes which can be arbitrarily sequenced. And even in their humor the dancing couple shows a monstrous strangeness, caused by their being in a fundamentally different reality.
As a visitor you will feel like an anthropologist, standing puzzled before an alien culture: Like an Asian ceremony where each gesture is well put, Schoofs and Cumming sit facing each other from opposing ends of the white dancing platform. Here they collect their thoughts and here they return to after each encounter. The two dancers embody living comic-book- or cartoon characters, and as such take on the aesthetics of the medium which apply for these art forms. This way they become creatures with distorted patterns of human behavior. These are taken out of context which makes them seem bizarre.
Or they are taken over the top, almost like in a film that's running too fast. In "Running Sushi" the increasingly accelerating technology has permeated humans – including their speech, where the soundtrack replaces their own voices: Cumming and Shoofs repeatedly move their lips at high-speed, in sync with the recorded text. Much like animated cartoon characters move their mouths in a mechanical manner. "Running Sushi" succeeds pretty well in its satire of the all-too-human. Like, for example, the shame we feel when nude: Without as much as a fiber covering their bodies the dancers meet on stage and emit animal noise-storms of terror – about their own nakedness and that of others. It is the use of striking exaggeration, which, in the first place, allows treating these taboo areas on stage at all. The audience responds by bursting into laughter, which takes the wind out of the sails of any allegation the piece could be bawdy. In another, no less bizarre scene the dancers, like a lexicon, define dry terms, while at the same time their (fully clothed) bodies make out together. In this manner "Running Sushi" unites what usually doesn't go together, while in contrast the choreography, full of child-like delight, deals with the elementary level. Johnny Schoofs gives in to his creative urge: By sticking chopsticks into an orange he creates an odd object. With full intention the joke runs into a void of wit. The longing for meaning is undermined, leaving the audience aghast – and still they react overtly favorable with thundering applause, which I can guarantee you is not a part of the playback.
tanz.at, 03.08.06

Daumenkino mit heiteren Ampelmännchen / Ditta Rudle
(English translation below)
Ohne die dritte Dimension kommt auch Chris Haring in seiner Choreografie "Running Sushi" aus. Auch auf dem Sushi-Tablett stehen ein Mann und Frau, doch mit ihren abgezirkelten Bewegungen erzählen sie winzige Geschichten. Legt Gaudreau Wert darauf, keine abgenutzten, belasteten Bewegungen zu verwenden, greift Haring absichtlich tief in die Kiste der Alltagscodes für Paare. Auch Stephanie Cumming und Johnny Schoofs, die Protagonisten in "Running Sushi", bewegen sich nicht im Raum, lassen die Bewegungs-sequenzen als Cartoons ablaufen, die sich zu einem lebendigen Comicstrip zusammenfügen. Hinter Harings mit einer perfekten Sounddramaturgie ausgestatteten unterhaltsamen Sushibissen versteckt sich eine ähnliche Frage wie sie Lynda Gaudreau stellt: In wie kleine Teile kann ich eine organische Bewegung zerlegen, dass sie noch als solche erkannt wird. Für Haring ist es die Geschwindigkeit des Ablaufs der Bilder, die Kommunikation mit dem Publikum, also Erkennen und Deuten von Bewegungen, ermöglicht. "Running Sushi" als gut studiertes, zum Vergnügen gezeigtes Daumenkino. Dort wo Gaudreau abstrakt bleibt, weder Gefühle noch Bilder unterlegt (wiewohl in der Zuschauerinnen unvermeidbar beides entsteht), arbeitet Haring mit eben diesen: Bildern, die Gefühle erzeugen, weil wir sie wieder erkennen und das entlockt uns herzliches Gelächter.
tanz.at, 03.08.06
A Flip-book with jolly traffic-sign men / Ditta Rudle
(Translation from German)
Even Chris Haring's choreography for "Running Sushi" cannot make do without the third dimension. And there are a man and a woman on the Sushi plate, but with their jerky movements they tell tiny stories. Where Gaudreau is keen not to use any worn-out or loaded movements, Haring employs these mundane codes for couples with full intention. Even Stephanie Cumming and Johnny Schoofs, the protagonists in "Running Sushi", do not move within space. They deliver sequences of movement in the fashion of cartoons, which become animated into a living comic-book. Hidden beneath Haring's perfectly scored Sushi morsels, lies a question similar to that Lynda Gaudreau asks: how far can I go in dissecting an organic movement without rendering it unrecognizable. To Haring it is the running speed of the sequence of pictures, which allows for communication with the audience and thus for recognition and interpretation of gestures. "Running Sushi" as a well studied flip-book shown for entertainment. In places where Gaudreau keeps things abstract, and refrains from weaving in emotions or images (albeit both of them result in the heads of the audience) Haring utilizes just these: images that evoke emotions, because we recognize them, which make us burst into joyful laughter.
kurier, 02.08.06
Der Mensch: Ohne Tiefe und zweidimensional / Andrea Amort
Einen völlig anderen Zugang zum Thema Oberfläche zeigt Chris Haring mit der Produktion "Running Sushi" in der Arena 21 im Museumsquartier (bis 2.August). Den Choreografen fasziniert die grafische Lösung der Mangas, der japanischen Comics. Für "Running Sushi" entwickelte er zwölf kompakte, aus dem Alltag, Träumen und Wünschen abgeleitete Szenen, deren Reihenfolge vom Publikum bestimmt werden soll. Leider war dieses Verfahren am Premierenabend nicht nachvollziehbar.
Manga
Auf einem weiß strahlenden Podium führt Haring seine Sushis vor. Minuziös ausgefeilte Miniaturen, die von Stephanie Cumming und Johnny Schoofswie lebendig gewordene Comicfiguren abgespult werden. Zweidimensional in ihrer Zeichenhaftigkeit. Flach verlaufen die schablonenartig herausgestanzten Lebens-Kapitel dieses Paares. In einer Sequenz ist plötzlich Anna Freuds Stimme zu hören: "Geht es nur über die Analyse oder auch anders?" Eine neue Dreidimensionalität im Sinne einer Lebensfülle allerdings scheint ausgeschlossen. Wenigstens in "Running Sushi". Sagt doch die fabelhafte Stephanie Cumming: "Tiefe ist ein Mythos". Licht aus.
Chris Haring geht in seinem neuen Tanzstück einmal mehr dem designten Menschen nach. Und packt ihn ab als bestellbare Ware. Nicht umsonst sind die Psychotherapeuten-Praxen voll.
wiener zeitung, 01.08.06
Performance der kleinen Häppchen / Verena Franke
Japanischen Comic-Figuren gleich, zweidimensional, in oft unverständlichen, computerverzerrten Stimmen performen Stephanie Cumming und Johnny Schoofs eindrucksvolle Szenen. Eindrucksvoll, denn es gelingt dem österreichi-schen Choreografen Chris Haring und seinem Ensemble loquid.loft, humorvolle, skurrile Bildsequenzen zu inszenieren.
Die Uraufführung von "Running Sushi" – im Rahmen des ImPulsTanz-Festivals – erinnert an die namensgleichen Restaurant, in denen bunte Teller auf einem Band vorbei gleiten, und kleine, japanische Häppchen bieten. Und ebenso gleiten die Bilder am Zuschauer vorbei; sie bieten pure Unterhaltung in der unerträglich heißen Arena 21 des Museumsquartier in Wien. Die Reihenfolge der Szenen an diesem Abend wird mit Hilfe von zwölf Spielkarten zu Beginn der Performance vom Publikum gezogen. Zwölf unabhängige Szenen folgen dann: Erzählt wird eine groteske Familiengeschichte oder es wird genussvoll in Orangen gebissen, so dass man Durst bekommt und es wird mit Stäbchen gekämpft und geliebt – begleitet von ruckartigen Isolationen des Körpers.
Auch tummeln sich wieder einmal nackte, aber ästhetische, Körper auf der Bühne, ein anscheinend unverzichtbares Detail beim diesjährigen Festival. Einen wesentlich Teil der Performance leistet nebst den hervorragenden Darstellern auch das musikalische Konzept (Glim/Andreas Berger), dass den Sequenzen erst Leben einhaucht. Einmal mehr zeigt sich Haring von seiner witzigen, schrägen und ungemein einfallsreichen Seite.
der standard, 01.08.06
Süffisanter Chunking-Tanz / Helmut Ploebst
(English translation below)
Bilder wider die normierte Welt bei Jonathan Burrows' und Matteo Fargion, bei Grace Ellen Barkey und bei Chris Haring
Wien – In der zeitgenössischen Choreografie wird seit einiger Zeit eine unterminierende Komik entdeckt und auf die Weichteile einer zunehmend unheimlichen Gegenwart losgelassen: etwa auch bei Jonathan Burrows' und Matteo Fargions Protoslapstick "The Quiet Dance", bei Grace Ellen Barkeys Groteskparty "Chunking" und in Chris Harings süffisantem Duett "Running Sushi", die sämtlich bei "ImPulsTanz" zu sehen waren oder sind. Produktionen, in denen die mehr oder weniger feinen Klingen eines rasiermesserscharfen Humors aufblitzen.
In "Running Sushi" führen ein Mann und eine Frau, ebenbürtig brillant getanzt und gespielt von Stephanie Cumming und Johnny Schoofs, katastrophische Phänomene praktischen Paarverhaltens vor. Aber nicht etwa mit psychologisierender Attitüde, sondern als Spiel mit mediengenerierten Verhaltensmustern, die dekonstruiert und absichtlich verkehrt oder bruchstückhaft wieder zusammengeklebt werden.
So signalisiert dieses Stück, dass es unter den Oberflächen der Zeichenwelt unseres Technopols noch bessere Denk- und Darstellungsmöglichkeiten gibt als die handelsüblichen, wo sämtliche Paar(ungs)spiele vorgeformt, aufbereitet und in der Konsumenten Werkzeugkoffer – zur Nachahmung in der realen Alltagsbewältigung – einsortiert werden. Unter Chris Harings Anleitung entwickeln die Tänzer Cumming und Schoofs mit unglaublichem Witz schrecklich groteske Szenen einer Zweisamkeit, die durch stupende Präzision und darstellerische Präsenz wie eine Science-fiction-Comedy wirken.
der standard, 01.08.06
/ Helmut Ploebst
(Translation from German, shortened)
In "Running Sushi" a man and a woman both brilliantly danced and played by Stephanie Cumming and Johnny Schoofs, demonstrate catastrophe-esque phenomena of applied couple-behavior. Not, however, with a psychologizing attitude, but as a game with media-generated patterns of behavior. These are deconstructed and then patched together again in intentionally wrong ways or even only in fragments. By these means the piece points out how beneath the surfaces of the technopol's world of signifiers are better ways to think and act, than those customary in trade; those, where all the modes to play the game of coupling are pre-prepared and being sorted into the consumer's toolkits – as tools of mimicry in actual coping with everyday life. Under Chris Haring's instruction the dancers Cumming and Schoofs incredibly wittily develop horribly grotesque scenes of togetherness, which in their stupefying perfection and through the intense presence of the actors strongly evoke the feeling of a Science-Fiction-Comedy.
viennaonline.at, 30.07.2006
Stäbchenhochsprung in 2D 
Eine Mischung aus schräger Impro-Show, zweidimensionalem Manga-Comic und fröhlichem Sushi-Essen boten Stephanie Cumming und Johnny Schoofs am Samstag im Rahmen des ImPulsTanz-Festivals im Museumsquartier.
Das zahlreich am Boden hockende Publikum würdigte die gelungene Uraufführung von "Running Sushi" des Kollektivs "Liquid Loft" mit viel Applaus. Auch wenn der 60-minütige Abend wie heuer so oft nicht ohne splitternackte Körper auskam, zeigte Choreograf Chris Haring eine schlüssige, ironische Inszenierung mit viel Muskelspiel.
Die "Speisekarte" erhielt das Publikum schon vorab in Form von zwölf Spielkarten, die jeweils mit Titel und dazugehöriger Zeichnung der zwölf Szenen ausgestattet waren. Wie im "Running Sushi"-Restaurant pickten die Zuschauer nach Belieben jene Speisen, die ihnen zu Beginn auf zwei Tabletts vorgesetzt wurden. Die Reihenfolge der Häppchen bestimmte also den Ablauf des Abends, das Publikum fungierte als Cutter des gebotenen Bildmaterials.
Das Menü reichte von der nüchternen Zusammenfassung eines schrägen japanischen Kinofilms bis zu spannenden Balance-Akten der Tänzer. Die Stimmen, oft bis zur Unkenntlichkeit verzerrt, kamen vom Tonband, auf der Bühne machte man sich Gedanken über den von Takashi Murakami geprägten Begriff "superflat", der nicht nur das zweidimensionale Comic als Kommunikationsform, sondern auch eine sich inhaltlich egalisierende Gesellschaft der Post-Post-Moderne charakterisiert.
In jeweils fünfminütigen Performances fühlten Stephanie Cumming und Johnny Schoofs etwa der stereotypen Beziehung zwischen Mann und Frau nach: so spannte man beispielsweise zwei Dutzend Stäbchen zwischen die beiden zuckenden Körper, näherte sich einander in verschiedensten Stellungen oder brüllte beim Anblick des nackten Körpers des Gegenübers vor Entsetzen. Eine andere Szene führte die in Europa mittlerweile zu Alltagsausdrücken mutierten japanischen Vokabeln ad absurdum: "Wasabi ist eine Krankheit", "Miso ist der beste DJ von Osaka" oder "Sashimi ist der Name des neuen Films von Bruce Lee".
Ein andermal diente das japanische Besteck als Taktstock für die zuckenden Bewegungen, eine Szene später in Kombination mit einer Orange als "Baustein" als ungeliebter Nachwuchs. Trotz des Zufallsprinzips fügte sich der Abend zu einem großen Ganzen zusammen. Ein kurzweiliges Bild jagte das nächste, Animation gelungen.
die presse, 31.07.06
Genug vom Brot, mehr Spiele! / Ditta Rudle
Kleine Bissen serviert auch Chris Haring mit "Running Sushi". Stephanie Cumming und Johnny Schoofs, Darsteller an der Sushibar, benehmen sich hündisch, hantieren mit Stäbchen, kämpfen und posieren. Lebende Bilder, schön anzusehen.
der standard, 24.07.06
Sich zwischen Sex und Sushi verstehen / Helmut Ploebst
Zwei neue Stücke von Superamas, "Big 3rd Episode (happy/end)", und Chris Haring, "Running Sushi", zeigen, dass die Logik des Entertainments mit jener von Kunst prächtig konterkariert werden kann.
Die Entertainmentwirtschaft kostet auch etwas. Geld sowieso. Vor allem aber unsere Freiheit, meinen Superamas. Chris Haring schlägt in eine ähnliche Kerbe. Seine bei ImPulsTanz uraufgeführte Choreografie running rushi setzt bei dem Spiel von Angebot und Nachfrage an und bei dem Gedanken, dass der Konsument es ist, der sich anbietet und nachfragt, was es denn so an Häppchen und Schnäppchen gibt. Wo zugelangt werden kann, dort kann auch ins Leere gegriffen werden, und wo ein Angebot schwimmt, wird auch ausgebootet. Mit welcher Logik packen uns welche Bieter, und wie sehr trauen wir ihren biederen Bilderbuch-Mienen? Auch jenen von Parteifreunden, Pharmakologen und Propagandisten mit Hang zur Bombenliebe?
Wer lacht, hat sich selbst schon einmal auf seiner Seite.
Die Frage, welche Seite das ist, dürfen wir Erheiterte selbst beantworten.
reviews