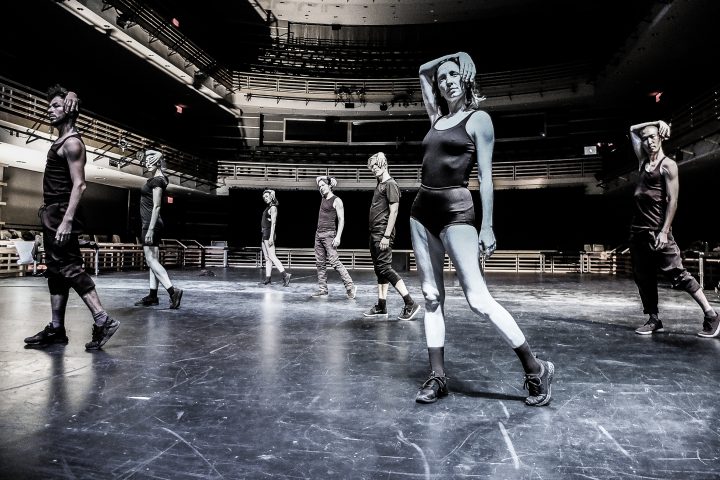 blue moon you saw...
In BLUE MOON you saw … Liquid Loft is located in a world of constant presence. It is a world that is self-sufficient in every moment, that makes any recourse to memories impossible. In this world posthumanist approaches and visual references to the Nouvelle Vague can be found. In its search for lost cultural references, Liquid Loft slips through rituals that do not follow any obvious liturgy and encounters the ambivalence of refusal and the poetry of distance. The solistic compositions of the previous work Stand-Alones ( polyphony ) are combined with the rapt atmosphere of Alain Resnais' film-classic Last Year in Marienbad and Elvis Presley's interpretation of a song that celebrates the longing for connection as the romance of being alone: Blue Moon.
A choreography of separation plays out here in this production – a specially coordinated isolation inside the group. The characters stand on their own. Together, they are alone, desperately maintaining their distance from each other: In that dis-dance palace, the rooms have been divided and the battle lines have been drawn. In the most recent work by Liquid Loft, the soloistic compositions from Stand-Alones (polyphony), the project's forerunner, are recast to form an ensemble piece in which the emphasis is nonetheless placed on autonomy and freedom of movement. The figures exist in mutual devotion, yet appear to hail from disparate dimensions and layers of time; their interaction brings about a new coexistence.
A cinematic enigma provides the foundation for this evening: Alain Resnais' classic oneiric film L'Année dernière à Marienbad/Last year in Marienbad (1961) lays down the rhythm and the dynamic for the performance in Blue Moon, You Saw … . Marienbad is a drama of social paralysis, a torpor in chilling beauty. Human statues and stone sculptures languish alongside each other in a world reduced to poses and routines. The film explores amorous maneuvering and the unreliability of memory; it deals with jealousy and power games, imagination and fiction, and perhaps even the afterlife, the realm of the dead, and of phantoms that emerge unexpectedly. Marienbad is a contradiction, an antithesis to the predilections of the fledgling Nouvelle Vague, a kind of objection to Godard's jump cuts and Truffaut's narrative classicism, to revolutionary gesturing and political escalation. Resnais' haunting society melodrama is miles away from the materials and forms of the young hipsters of the New Wave – although it would make for a captivating double feature with Godard's subsequent masterpiece Le mépris (1964), which shares a similar thematic constellation: a woman between two men who are vying for power – two productions exploring existence and cinema, one colorful, analytical, and ironic, the other in glittering black and white, shadowed in mystery.
Each of the figures in Blue Moon, You Saw … reels off their program, their very own processes, in an infinite loop as it were, besotted by the safety of repetition. In doing so, they are released: The expanse of the space between the bodies is crucial, essential for survival. The worlds that are created between them appear alien. The austerity of the rituals they execute is rendered even more cryptic by the volatility of the shifting motifs; these alien individuals encounter each other virtually, beyond time and space.
Those who are on their own, the stand-alones, harbor no dreams in their hearts as they are without love, just the way the melancholic Rodgers & Hart hit "Blue Moon" wants it; but dream and romance aren't everything, because as the term implies, stand-alones are also free, self-sufficient, and independent. They seek companionship, but they do not need it. Hope is alive, abandonment harbors opportunity. For all its sorrow, a blue moon is something rare and precious, as is evidenced by the saying "Once in a blue moon". In a year with thirteen full moons, the nights shine brighter than usual.
Two songs from a sunken, virtually forgotten world lend this project added context – both pieces are well-known, yet disembodied as it were, decoupled from the dark times from which they sprang. Alongside the eponymous "Blue Moon", a composition from 1934, a B-side country anthem released by Hank Williams and his Drifting Cowboys in 1949 comes into play. "I'm So Lonesome I Could Cry" is a lesson in emotional ambivalence: feel-good music about suffering, a tenderly swaying ode to nature, to loneliness, to melodic bliss and mortal grief. The moon likewise features prominently in this song: "I've never seen a night so long / When time goes crawling by / The moon just went behind the clouds / To hide its face and cry". On those long nights when time seems to stand still, the moon, too, withdraws into its harmonious melancholy.
Blue Moon, You Saw … revisits a well-loved topos in the work of Liquid Loft: the machine-man. In a society that seems to operate by remote control, in the liminal realm of the undead, people are nothing more than moving sculptures; uttering enigmatic quotes, they are shadows of themselves. They act out scenes from the era of posthumanism, in which happiness and unhappiness are so close together as to be indistinguishable. They are used to the abruptly shifting moods, changing every few minutes, and accept them stoically. These trans-human figures are artificial intelligences, protagonists of a fantasised "reality".
The submerged sound, produced by the dreamlike music and the rapturous film dialogues, sets the stage for the leap between different times: They speak of memories, visions, ideals, and fears. The oblivion of the performers bears on the present. It's as if they have submerged themselves in layers of time long past in order to get ahold of things remembered, things buried, their movement sustained only by that which has been indelibly and eternally etched into the body memory. They comment on invisible things (or react to unidentified stimuli), they murmur, whisper, lament, laugh, and they bellow inaudibly.
Alain Robbe-Grillet, a proponent of the Nouveau Roman, wrote the screenplay for Marienbad. He drew inspiration from a novel that Argentinean author Adolfo Bioy Casares had published in 1940 at the age of 25. This surrealist tale, titled La invención de Morel, is about a man who runs away from the law and ends up on a remote island where he discovers an extravagant community that amuses itself by donning costumes from times gone by, celebrating idleness with repetitive rituals. The people take no notice of him whatsoever. They are merely three-dimensional, "lifelike" recordings – captured by a machine that can (more sensually than cinema) even record smells. Morel's invention is considered one of the earliest pieces of genuine South American science fiction; it presages the digital technology of virtual reality. Blue Moon, You Saw…, too, aspires implicitly to reach the point at which the bodies begin to dissolve, to disappear – and become blissfully lost in the world of harsh shadows to which they are gently delivered.
Stefan Grissemann
Translation: Jennifer Weidenholzer
10/10/2020
ImPulsTanz Vienna International Dance Festival, AT
09/10/2020
ImPulsTanz Vienna International Dance Festival, AT
08/10/2020
ImPulsTanz Vienna International Dance Festival, AT
07/10/2020
ImPulsTanz Vienna International Dance Festival, AT
06/10/2020
(premiere)
ImPulsTanz Vienna International Dance Festival, AT
dates
Dance, Choreography: Luke Baio, Stephanie Cumming, Dong Uk Kim, Katharina Meves, Dante Murillo, Anna Maria Nowak, Arttu Palmio, Hannah Timbrell
Artistic Direction, Choreography: Chris Haring
Choreographic Assistance: Stephanie Cumming
Composition, Sound: Andreas Berger
Light Design, Scenography: Thomas Jelinek
Theory, Text: Stefan Grissemann
Stage Management: Roman Harrer
Photo- and Video-Documentation: Michael Loizenbauer
International Distribution: APROPIC – Line Rousseau, Marion Gauvent
Company Management, Production: Marlies Pucher
A co-production by Liquid Loft and ImPulsTanz Vienna International Dance Festival.
Premier: October 6th 2020, ImPulsTanz Special at Odeon Theatre Vienna. 
Liquid Loft is supported by: Kulturabteilung der Stadt Wien (MA7) and Bundesministerium für Kunst, Kultur, öffentlichen Dienst und Sport (BKMÖS)
credits