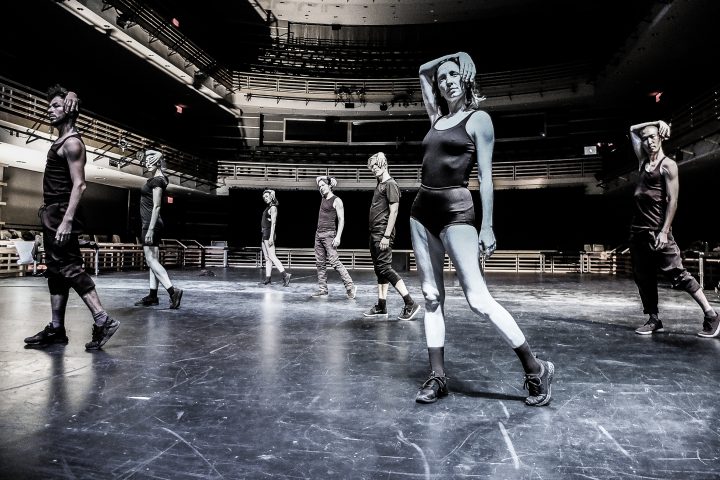 blue moon you saw...
In their new work BLUE MOON you saw … Liquid Loft is located in a world of constant presence. It is a world that is self-sufficient in every moment, that makes any recourse to memories impossible. In this world posthumanist approaches and visual references to the Nouvelle Vague can be found. In its search for lost cultural references, Liquid Loft slips through rituals that do not follow any obvious liturgy and encounters the ambivalence of refusal and the poetry of distance.
Dance, Choreography: Luke Baio, Stephanie Cumming, Dong Uk Kim, Katharina Meves, Dante Murillo, Anna Maria Nowak, Arttu Palmio, Hannah Timbrell
Artistic Direction, Choreography: Chris Haring
Choreographic Assistance: Stephanie Cumming
Composition, Sound: Andreas Berger
Light Design, Scenography: Thomas Jelinek
Theory, Text: Stefan Grissemann
Stage Management: Roman Harrer
Photo- and Video-Documentation: Michael Loizenbauer
International Distribution: APROPIC – Line Rousseau, Marion Gauvent
Company Management, Production: Marlies Pucher
A co-production by Liquid Loft and ImPulsTanz Vienna International Dance Festival.
Liquid Loft is supported by: Kulturabteilung der Stadt Wien (MA7) and Bundeskanzleramt für Kunst und Kultur (BKA).
09/10/2020
ImPulsTanz Vienna International Dance Festival, AT
09/10/2020
ImPulsTanz Vienna International Dance Festival, AT
08/10/2020
ImPulsTanz Vienna International Dance Festival, AT
06/10/2020
(premiere)
ImPulsTanz Vienna International Dance Festival, AT
dates