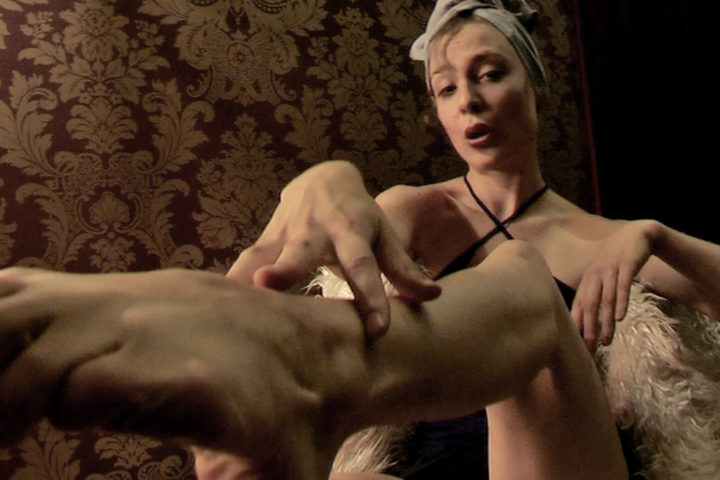 burning palace (film)
A stage, marble columns, the red curtain closes: You only have a split second of a pose to multiply your transgression*. This first statement introducing the opening sequence sounds like provocative instructions. The game of five figures ensnared in erotic innuendos is more appearance than reality: the pornographic poses can be interpreted as sexual simply by the shadows they cast. In the glowing light, they are actually five protagonists warming up for a night in the Burning Palace Hotel.
photos: m. mattuschka/c. haring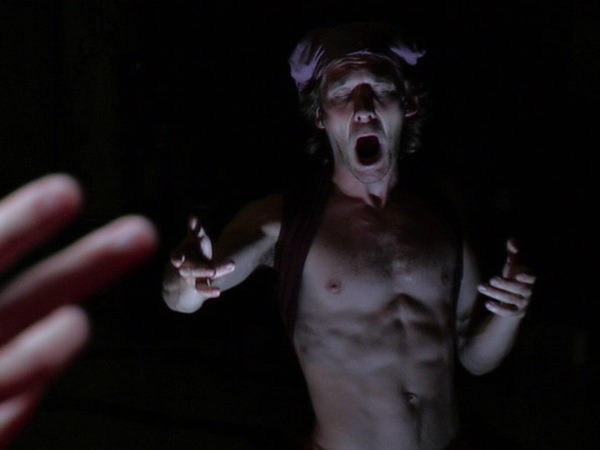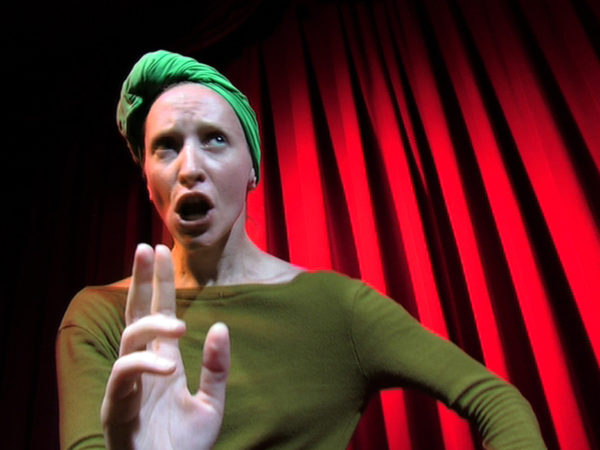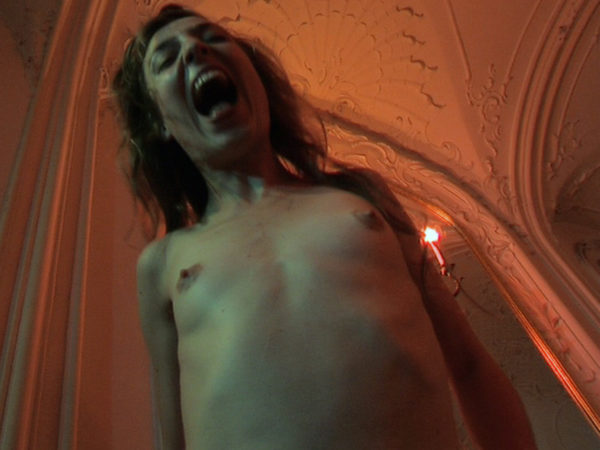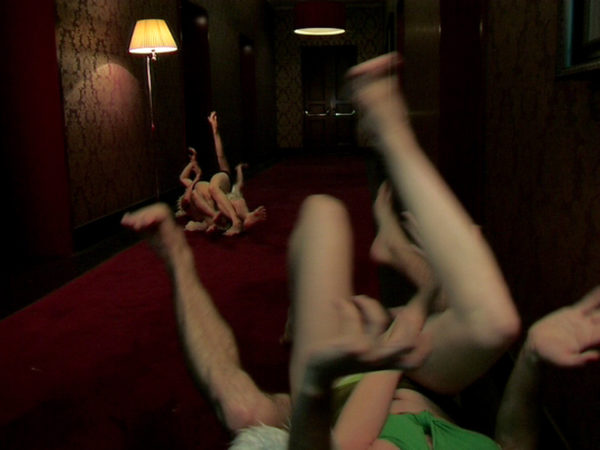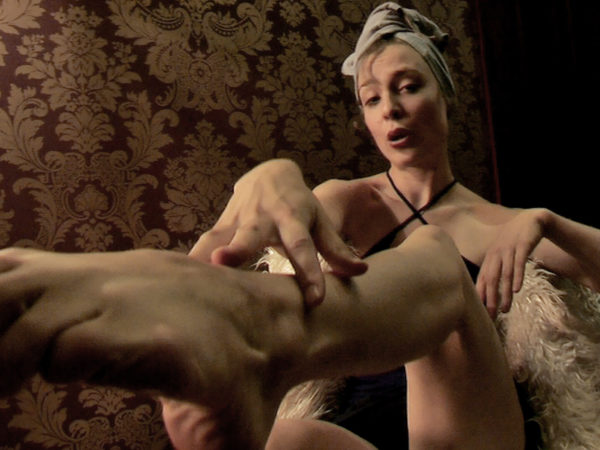 Precise physical work with the body has seldom experienced such a condensed cinematic counterpart as it does in Mattuschka's/Haring's new film. In subtle tableaux vivants sweaty bodies awake from a turbulent, dream-filled night at the hotel, lull male and female bodies out of grotesque poses into a scene of border transgression: between objects and bodies, sounds and melodies, and genders arise those categorical transgressions and shifts so typical for Mattuschka. A mimetic communication takes place between the beings (are they really people?) populating this palace in an urgency of gestures entirely characteristic of the filmmaker, which is seemingly produced through the immense, yet astonishingly discrete proximity of the camera to the bodies.The alienated soundscape of breathing, singing, and speaking provides the logical architecture for the visual development, and determines the chronology of the events, the carnivalesque of the gestures, and the materiality of the bodies with an increasing uncanniness (the palace as hotel, as heterotopia). From Paris is Burning to this Burning Palace: it's just a stone's throw.
text: andrea b. braidt, translation: l. rosenblatt
* quote: katherina zakravsky
Director: Mara Mattuschka, Chris Haring
Sound: Andreas Berger
Camera: Sepp Nermuth
Starring: Luke Baio,  Stephanie Cumming, Alexander Gottfarb, Katharina Meves, Anna Maria Nowak
Release: April 2009
Based on the stage performance Posing Project B – The Art of Seduction
Distribution: sixpack film
credits
Screenings
30/09/15 Filmcasino Vienna, Austria
12/10/14 Indie Cork Int. Film Festival
16/08/14 Dokufest Prizren, Kosovo
08/08/14 espresso film, Vienna, Austria
01/05/14 Int. Kurzfilmtage Oberhausen
29/04/14 Filmclub Münster
21/10/13 International Short Film Festival, Uppsala, Sweden
30/05/13 XPOSED International Queer Film Festival, Berlin, Germany
18/05/13 EYE Film Institute, Amsterdam, The Netherlands
08/05/13 Tanzquartier Vienna, Austria
27/04/13 Tanzquartier Vienna, Austria
24/11/11 Bukarest 2011 – EXPIF – Fundatia
13/11/11 Bukarest – Österreichisches Kulturforum Bukarest
11/11/11 Valencia 2011 – La Cabina Medium Length
27/09/11 Kaunas 2011 International Film Festival
20/09/11 Zagreb 11 – 25fps Video Festival
15/07/11 Chennai 11 – Women's Film Festival
23/06/11 Freiburger Lesbenfilmtage 11 e.V.
26/05/11 Barcelona – Centre de Cultura Contemporània
10/05/11 Wroclaw 11 – Int. Media Art Biennale
25/09/11 Wien – Top-Kino "Coming Attraction"
23/03/11 Bilbao – LA FUNDICION-Assoc. Puertas Abiertas
08/03/11 Tampere 2012 – 42. Short Film Festival
01/03/11 Chennai 10 – Women's Film Festival
27/01/11 Frankfurt – Mal Seh´n Kino
22/01/11 Bilbao 11 – Zinegoak Festival Int. de Cine
27/11/11 Istanbul Pera Muzesi
17/09 – 25/09/10 Queer Festival Lisboa
22/07/10 Wroclaw 10 – New Horizons
25/06/10 New York Anthology Film Archives
18/06/10 Hot Springs Arkansas Underground
18/06/10 Spielboden Dornbirn
12/06/10 Pantin Festival Côté court
06/06/10 Okto Community TV
23/06/10 Movimiento Linz – Mattuschka Abend
05/05/10 Marfa Film Festival
21/04/10 Brive – Rencontres du Moyen Metrage
15/04/10 St Johann Musik-Kultur
17/03/10 Regensburger Kurzfilmwoche
10/03/10 Brest Ecole Superieure d'Arts de Brest
19/02/10 Hors Pistes Paris, Int. Medium Length Film Festival
27/01/10 Rotterdam 39. Filmfestival
23/01/10 Berlin 10 transmediale
21/01/10 Stuttgart Wand 5 32. Filmwinter
03/12/09 Malmö Biograf Panora Dancing in the Dark
05/11/09 Dallas Video Festival
19/10/09 Uppsala 28. Int. Short Film Festival
15/10/09 New York MIX NYC
14/10/09 London 53. Film Festival
06/11/09 Szczecin – Kana Theatre Centre
07/10/09 Münster Film Festival
07/10/09 Montreal Festival nouveau cinema
03/10/09 Medienkulturhaus Wels, Visionary Wels
24/09/09 Lincoln TIE Int. Experimental Cinema
19/09/09 Movimiento Linz Visionary
16/09/09 Wien-Top Kino
06/07/09 Graz Rechbauerkino Visionary
03/07/09 Kufstein Visionary
02/07/09 Marseille, Fidmarseille
26/06/09 La Rochelle Int. Film Festival Special: Mara Mattuschka
26/06/09 Zwettl Kunstverein Filmclub
22/06/09 Gleisdorf Diesel Kino
15/06/09 Gmunden Gaya Gallery for Young Art
30/04/09 Visionary im Stadtkino Wien
30/04 – 05/05/09 55. Int. Kurzfilmtage Oberhausen
17/03/09 Diagonale Festival des österr. Films
dates