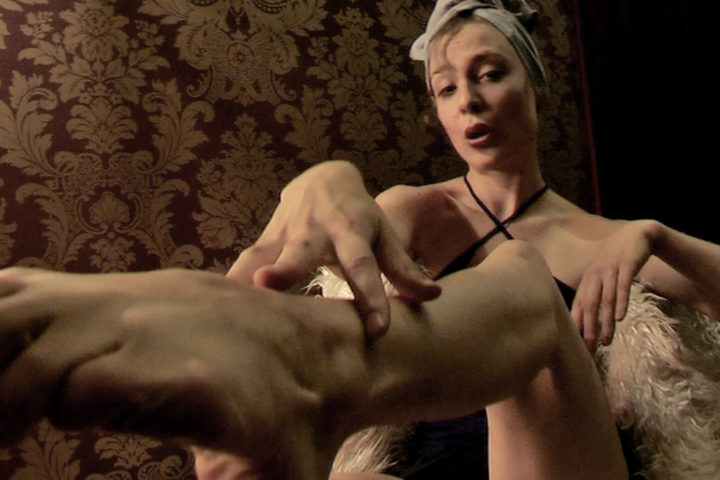 burning palace (film)
Eine Bühne, Marmorsäulen, der rote Vorhang schließt sich. "You only have a split second of a pose to multiply your transgression (1)." Wie eine provokante Handlungsanleitung klingt dieser erste Satz, der die Eröffnungssequenz einleitet: das Spiel von fünf Figuren, verstrickt in erotischem Innuendo, mehr Schein als Sein: Die pornographischen Posen sind lediglich in ihrem Schattenwurf sexuell interpretierbar. Tatsächlich im gleißenden Licht: fünf ProtagonistInnen, die sich aufwärmen für eine Nacht im Hotel "Burning Palace".
photos: m. mattuschka/c. haring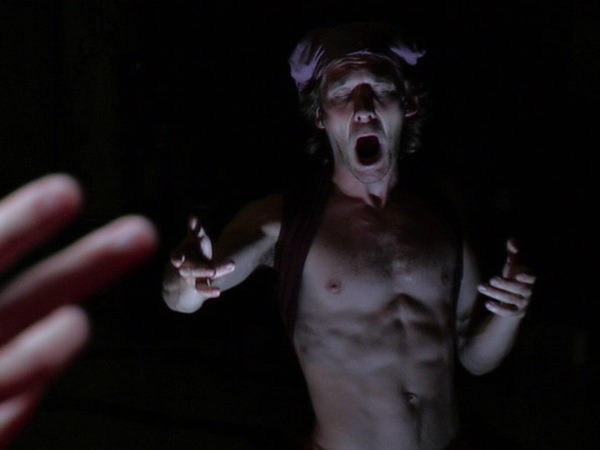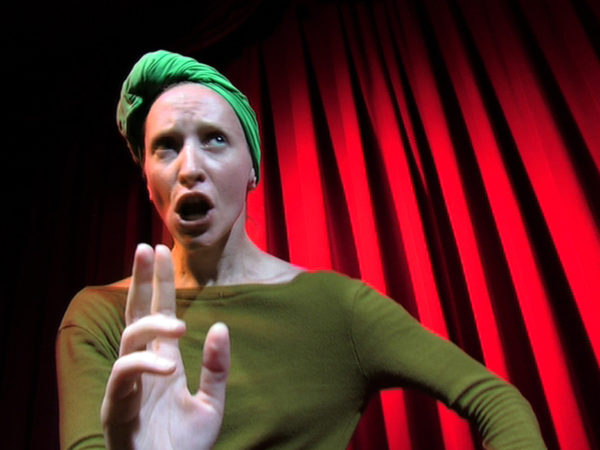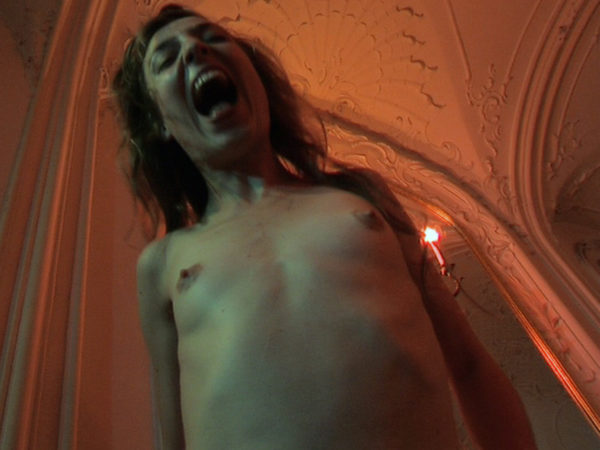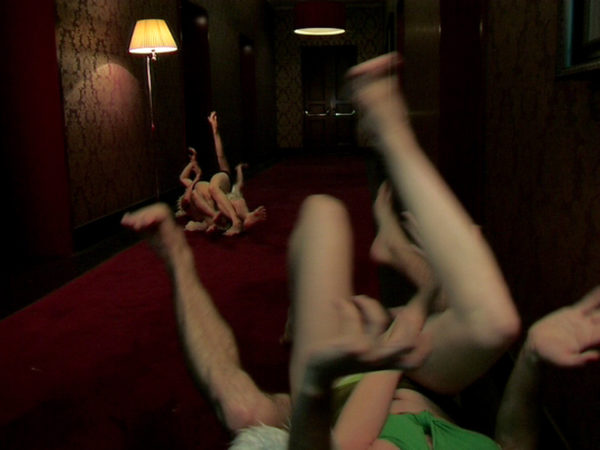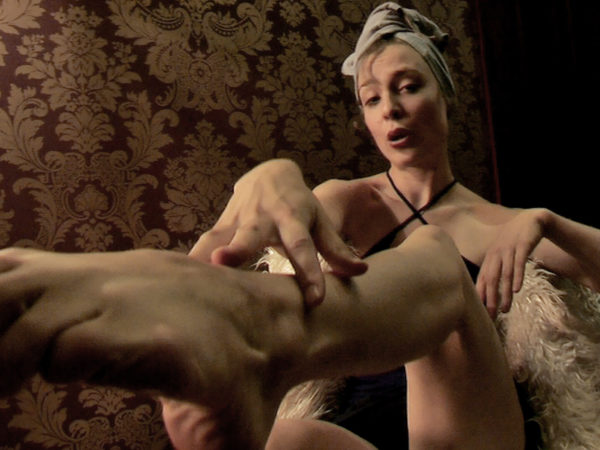 Noch selten erfuhr Körperpräzisionsarbeit eine derart dichte filmische Entsprechung wie in Mattuschkas/Harings neuem Film. In ausgetüftelten tableaux vivants erwachen schwitzige Leiber aus einer unruhigen, traumerfüllten Hotelnacht, räkeln ihre Männer- und Frauenkörper aus grotesken Posen hinein in eine Szenerie der Grenzüberschreitung: zwischen Objekten und Körpern, zwischen Tönen und Melodien, zwischen den Geschlechtern kommt es zu jenen kategorialen Übertretungen und Verschiebungen, die so typisch sind für Mattuschka. Durch eine für die Filmemacherin ganz bezeichnende Dringlichkeit des gestischen Ausdrucks, die durch die große, jedoch verwunderlicherweise stets unaufdringliche Nähe der Kamera zu den Körpern hergestellt scheint, kommt es zu einer mimetischen Kommunikation zwischen den Wesen (sind es wirklich Menschen?), die diesen Palast bevölkern.
Die verfremdete Soundscape aus Atmen, Singen, Sprechen, liefert die Architektur für die Logik des Bildaufbaus und bestimmt in zunehmender Unheimlichkeit (der Palast als Hotel, als Heterotopie) die Chronologie der Ereignisse, das Karnevaleske der Geste, die Materialität der Körper. Von "Paris is Burning" zu diesem Burning Palace: ein Katzensprung.
text: andrea b. braidt
(1) quote by katherina zakravsky
basierend auf dem Bühnenstück Posing Project B – The Art of Seduction von Liquid Loft
Regie: Mara Mattuschka, Chris Haring
Sound: Andreas Berger
Kamera: Sepp Nermuth
mit:
Luke Baio
Stephanie Cumming
Alexander Gottfarb
Katharina Meves
Anna Maria Nowak
Release: April 2009
Distribution: sixpack film 
credits
Screenings
30/09/15 Filmcasino Vienna, Austria
12/10/14 Indie Cork Int. Film Festival
16/08/14 Dokufest Prizren, Kosovo
08/08/14 espresso film, Vienna, Austria
01/05/14 Int. Kurzfilmtage Oberhausen
29/04/14 Filmclub Münster
21/10/13 International Short Film Festival, Uppsala, Sweden
30/05/13 XPOSED International Queer Film Festival, Berlin, Germany
18/05/13 EYE Film Institute, Amsterdam, The Netherlands
08/05/13 Tanzquartier Vienna, Austria
27/04/13 Tanzquartier Vienna, Austria
24/11/11 Bukarest 2011 – EXPIF – Fundatia
13/11/11 Bukarest – Österreichisches Kulturforum Bukarest
11/11/11 Valencia 2011 – La Cabina Medium Length
27/09/11 Kaunas 2011 International Film Festival
20/09/11 Zagreb 11 – 25fps Video Festival
15/07/11 Chennai 11 – Women's Film Festival
23/06/11 Freiburger Lesbenfilmtage 11 e.V.
26/05/11 Barcelona – Centre de Cultura Contemporània
10/05/11 Wroclaw 11 – Int. Media Art Biennale
25/09/11 Wien – Top-Kino "Coming Attraction"
23/03/11 Bilbao – LA FUNDICION-Assoc. Puertas Abiertas
08/03/11 Tampere 2012 – 42. Short Film Festival
01/03/11 Chennai 10 – Women's Film Festival
27/01/11 Frankfurt – Mal Seh´n Kino
22/01/11 Bilbao 11 – Zinegoak Festival Int. de Cine
27/11/11 Istanbul Pera Muzesi
17/09 – 25/09/10 Queer Festival Lisboa
22/07/10 Wroclaw 10 – New Horizons
25/06/10 New York Anthology Film Archives
18/06/10 Hot Springs Arkansas Underground
18/06/10 Spielboden Dornbirn
12/06/10 Pantin Festival Côté court
06/06/10 Okto Community TV
23/06/10 Movimiento Linz – Mattuschka Abend
05/05/10 Marfa Film Festival
21/04/10 Brive – Rencontres du Moyen Metrage
15/04/10 St Johann Musik-Kultur
17/03/10 Regensburger Kurzfilmwoche
10/03/10 Brest Ecole Superieure d'Arts de Brest
19/02/10 Hors Pistes Paris, Int. Medium Length Film Festival
27/01/10 Rotterdam 39. Filmfestival
23/01/10 Berlin 10 transmediale
21/01/10 Stuttgart Wand 5 32. Filmwinter
03/12/09 Malmö Biograf Panora Dancing in the Dark
05/11/09 Dallas Video Festival
19/10/09 Uppsala 28. Int. Short Film Festival
15/10/09 New York MIX NYC
14/10/09 London 53. Film Festival
06/11/09 Szczecin – Kana Theatre Centre
07/10/09 Münster Film Festival
07/10/09 Montreal Festival nouveau cinema
03/10/09 Medienkulturhaus Wels, Visionary Wels
24/09/09 Lincoln TIE Int. Experimental Cinema
19/09/09 Movimiento Linz Visionary
16/09/09 Wien-Top Kino
06/07/09 Graz Rechbauerkino Visionary
03/07/09 Kufstein Visionary
02/07/09 Marseille, Fidmarseille
26/06/09 La Rochelle Int. Film Festival Special: Mara Mattuschka
26/06/09 Zwettl Kunstverein Filmclub
22/06/09 Gleisdorf Diesel Kino
15/06/09 Gmunden Gaya Gallery for Young Art
30/04/09 Visionary im Stadtkino Wien
30/04 – 05/05/09 55. Int. Kurzfilmtage Oberhausen
17/03/09 Diagonale Festival des österr. Films
dates