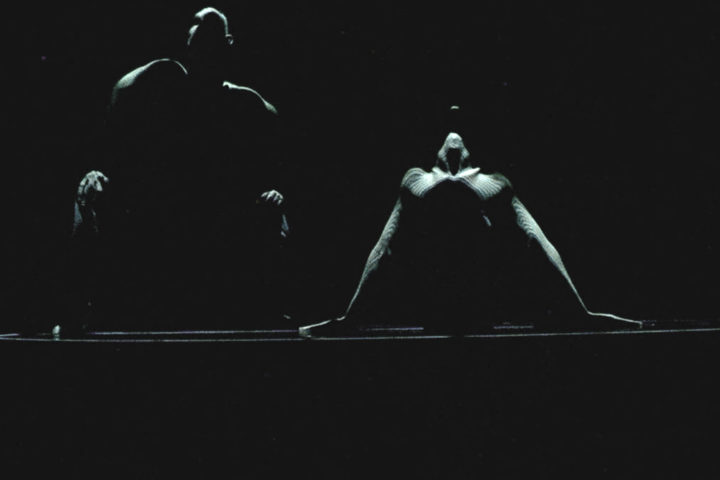 diese körper, diese spielverderber
"…these pre-telematic participants in the telematic game are, since they can't be eliminated totally, to be pushed to the horizon of the field of vision, to the back of those players who stare at screens. And this consideration for the bodies, this respect for them, this view back to pre-telematic conditions, will make them appear constantly smaller and more and more uninteresting. They will shrink, […] The fact that we start to detest the bodies, including our own, and that we start to focus on points, including the tips of our fingers, that we transfer our interests from out bellies and genitalia on the one hand, and the volumina around us on the other hand, towards our imaginary antennae, that is the cerebral nature of the emerging society." Vilém Flusser
A double organism at war with itself, an androgynous gecko appears and separates into two hungry body junkies lusting for real existence. A reminiscence of Plato's "Symposion": when humans were spheres, until they were cut in two for becoming too arrogant.
The technical world suddenly represents the archaic cosmos of which projection is reminding us. Yet now our junkies want to inhabit it themselves; they want to leave their tragically pointed light doors behind and gently enter the cosmic orbit. Only the breathing outlines stay left. Lines of light on the edge of their shoulders and arms. Like in Conturismo where the love for the pure outline represents the pure idea.
Fronta Festival, Murska Sobota, SL
ImPulsTanz Vienna International Dance Festival, AT
dates
Performance: Stephanie Cumming, Chris Haring
Choreography: Chris Haring
Sound Design: Glim
Video: Oliver Bokan
Dramaturgy, Light Design: Thomas Jelinek
Text: Katherina Zakravsky
Costume: Max Wohlkönig
Concept: Chris Haring, Katherina Zakravsky
Production Assistance: Maria Derntl
credits
APA, 23.07.2004
/ Birgit Lehner
Dass Tanz eine Disziplin auf der Höhe des aktuellen philosophischen und kunsttheoretischen Diskurses und trotzdem nicht trocken-analytisch, sondern virtuos und fesselnd sein kann, durfte das ImPulsTanz-Publikum gestern im Akademietheater erleben: Chris Haring, Stephanie Cumming und Palle Dyrvall gestalteten mit Körperbotschaften aus einer technisierten Welt einen Abend, der zu den Highlights des diesjährigen Festivals gezählt werden darf.
die presse, 26.07.2004
Auf Abwegen, in den Orbit, am Rand / Irene Stelzmüller
[…] Chris Haring, einer der originellsten heimischen Choreografen, wurde mit raffinierten Videotanz-Performances bekannt. Auch in "Diese Körper, diese Spielverderber" ging es um Verschränkung von konkreter und virtueller Realität, um Science-Fiction und den menschlichen Körper als kybernetische Landschaft. Dabei stellte er sich und Stephanie Cumming als kreidebleiche Körper, die offensichtlich Mister Frankenstein sehr nahe stehen, in den Mittelpunkt. Sie versuchten, ihren Körpern eine einheitliche Bewegungssprache zu verpassen, gingen dafür eine flüchtige Symbiose ein. Das konstruierte Wesen – ein Doppelorganismus, der einem kafkaesken Käfer glich – war nicht überlebensfähig: Trotz gemeinsamer Atmung strebten die Extremitäten in gegensätzliche Richtungen, somit war der Zerfall vorprogrammiert, das Menschliche trat wieder in den Vordergrund. Kreativer Höhepunkt: die Lichtgestaltung von wandernden Lichtlinien und Leuchtpunkten, die quasi in den Orbit entführten. […]
[…] Ein mit sich selbst im Widerstreit liegender Doppelorganismus, ein hermaphroditischer Gecko, taucht auf und teilt sich in zwei gierige Körperjunkies, süchtig suchend nach realer Existenz. Reminiszenzen an Platons Symposium: Als die Menschen Kugeln waren, bis sie zerschnitten wurden, weil sie zu hochmütig wurden.
Die technisch erzeugte Welt steht da plötzlich für den archaischen Kosmos, an den wir durch Projektion wiedererinnert werden. Nur wollen unsere Junkies jetzt selber darin wohnen, sie wollen selber ihre tragisch-spitze existentialistische Lichttür verlassen und sanft auf die perfekte Kreisbahn einschwenken. Übrig bleiben nur ihre atmenden Konturen, Lichtlinien auf dem Grat ihrer Schultern und Arme. Wie im Conturismo – die Verliebtheit in den Umriss, der für die "reine Idee" steht.
Zuvor war sie ja gestanden, wie eine restlos narzisstische, einsame Statue ihrer selbst, mit gequält begehrlichen Augen gegen den Beamerhimmel gerichtet. Es ist eine seltsame Wiederkehr der ausfließenden Gallertaugen El Grecos in einem so anderen, künstlichen Licht. El Greco – El Gecko.
Was ist nun die Droge? Der Körper, der uns als unwillkommener Restwiderstand in der schönen neuen virtuellen Welt zu beschweren schien oder das körperlose Licht der Projektionsmaschine?
reviews