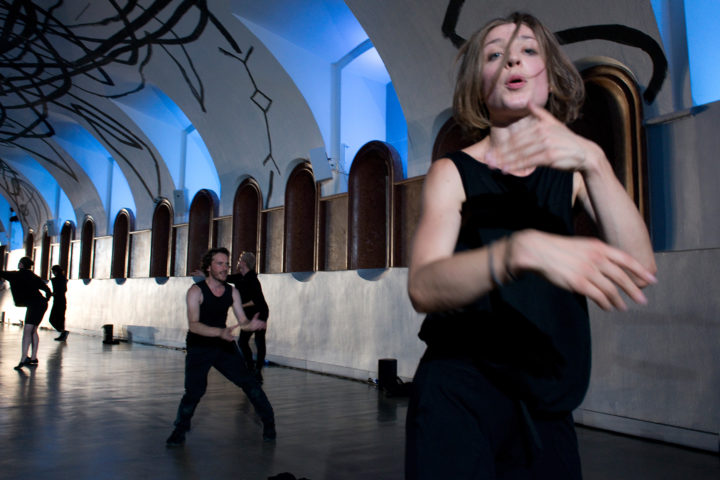 babylon (slang)
site-specific performance at Hofstallungen, Museumsquartier
for ImPulsTanz Vienna International Dance Festival
The biblical story of the Tower of Babylon, set in primordial times, develops as an urban dystopia; the catastrophe of its collapse, a failure of complex systems caused by the laws of entropy. Likewise, Babylon stands for the experience of exile, the involuntary displacement, for the very moment where, in the history of religion, monotheism came about, with its universalist ethics that leads beyond the confines of the clan, the tribe, the nation or the religious community. Before we speak we already bring an expansive epos of untold stories into the game: the imprint of the family, stereotypes of gender or the instances of cultural socialisation, that form our vision, thinking and speaking. The immanent shaping of bodies and desires, the elementary power games of everyday life. The regional idiosyncrasies are included in this as much as the claim that, in a globalized context we need to speak a world-language, despite the price of impoverishment and simplification.
Babylon (Slang) is the utopian promise to escape the disaster, to, nonetheless, ultimately resolve the contradictions of the modern world one day and deal with its complexity together.
photos: m. loizenbauer, c. haring
in the realm of meaning. babylon is burning.

Stefan Grissemann
Dealing with language is a matter of power. Which is quite evidently reflected in rhetoric terms such as "mastering a language", being a "powerful" speaker, or in being able to use language as a kind of weapon, employ it in resistance, intimidate someone, talk them down, exclude. Those who speak the language of the majority also have authority. And one can always override common sense with linguistic means, imbue terms with new meaning to serve one's own interest. Or ironically break them through creative effort.
Each speech act is a performance, a communicative endeavour, which doesn't necessitate an audience: Even a soliloquy has the required theatrics. However, anyone who becomes linguistically active usually transmits something: a thought, an idea, an offer or a command; in any case, they construct meaning. But what does a specific "meaning" actually sound like? What does it look like, if it gets "embodied"? After all, languages, even before they carry any "meaning", are basically tone and rhythm, ambivalent islands of sound. In Foreign Tongues pre-recorded utterances – remote dialects, regional- and minority languages – are interpreted into sequences of movement not based on their semantic foundations but on dynamics, emphasis and atmosphere. Linguistic patterns are understood musically and interpreted gesturally in the interplay of feeling and understanding.
Bodies have a different, less arbitrary meaning than words. They appear to be undeniable, permanent and generally "understandable". Because languages are also this: a question of identity. In Foreign Tongues the bodies are containers, seismographs and translators. The transcriptions they deliver aim at the ambiguous, are open for interpretation and reveries. The documentary character of the (linguistic) source materials is retained. The momentary, unrepeatable in the recorded acoustic template is adequately reproduced by the ensemble in the moment of performance: as an act between impulsive reaction and dancing fixation. Language yields to productive misunderstanding, creates – often involuntarily – ambiguities, shrouds itself in the fogs of the mysterious and, thus, becomes usable for art: gesturally, in facial expressions, and phonetically.
Foreign Tongues has been conceptualized as a series, a system of manifold treatments (and archiving) of foreign, as well as, occasionally, familiar signs. The whole corpus is based, in a way, on the idea of collecting books. Not, however, in a real sense, but merely as an echo of the abstract utopia fleshed out in Jorge Luis Borges' fantastic story "The Library of Babel" (1941), which celebrates the imagination-bursting concept of infinity. In Borges' fictional universal library one can find every possible printed text one can create from every thinkable combination of the characters of a 25-symbol alphabet – every conceivable book, translated into all existing languages. You only need to search extensively enough: Among the publications there's one which explains everything, the world, life and, of course, the structure of the infinite library.
In the frame of its – naturally finite – mixture of languages which range from the identifiable to the fictionally distorted, Foreign Tongues also offers a constantly expanding reservoir of localized expressions and narratives, in the sudden change of speaking modes and jargons. The manipulation of language snippets, extracted from deliberately raw field recordings, produces distorted, over-the-top, robotic cartoon voices. A reverend nod, through the pulsating soundtrack, to the sensual grotesque of the stuttering and twitching of (re-)animated figures. And an arsenal of pre-linguistic sounds, which also are being interpreted physically – all that scraping, squeaking, scratching and creaking – remind us that languages themselves are nothing but choreographed sequences of noises.
The dancers – acting fearlessly as usual – control the monologue, the fragments of dialogue and scraps of language with and to which they play, from their own iPods Everybody has their own external source of sound. They make use of the additional gain in self-determination and scope, in autonomy of movement and aleatoric creation, the liberation from the stage and the strictly timed staging patterns. The cascades of words they present, increase to absurd swarms of meaning which, over the course of the Foreign Tongues-Series, will culminate in some symphonic endpoint.
The laughter, each on their own as well as collectively, is kindled anew. Babylon burned down. But the end is far, because cheerfulness knows no apocalypse – only the anarchic throttle of the magnificently infantile.
07/08/2018
ImPulsTanz Vienna International Dance Festival, AT
06/08/2018
ImPulsTanz Vienna International Dance Festival, AT
05/08/2018
ImPulsTanz Vienna International Dance Festival, AT
04/08/2018
ImPulsTanz Vienna International Dance Festival, AT
dates
Dance, Choreography: Luke Baio, Dong Uk Kim, Katharina Meves, Dante Murillo, Anna Maria Nowak, Arttu Palmio, Karin Pauer, Hannah Timbrell
Artistic Direction, Choreography: Chris Haring
Composition, Sound: Andreas Berger
Light Design, Scenography: Thomas Jelinek
Choreographic Assistance: Stephanie Cumming
Costumes: Stefan Röhrle
Libretto: Aldo Giannotti
Program Texts: Stefan Grissemann, Uwe Mattheiss
Distribution: APROPIC – Line Rousseau, Marion Gauvent
Stage Management: Roman Harrer
Photo- and Videodocumentation: Michael Loizenbauer
Production Coordination: Christina Helena Romirer
Company Management: Marlies Pucher
Liquid Loft is supported by: MA7 Kulturabteilung der Stadt Wien (Cultural Department of the City of Vienna) and BKA Bundeskanzleramt Kunst & Kultur (Austrian Federal Chancellery Arts & Culture)
Foreign Tongues, an IN SITU Pilot project, has received a creation aid under the ACT project, co-funded by the Creative Europe Programme of the European Union. Co-produced by: Atelier 231 (FR), Festival di Terni (IT), Freedom Festival (UK), La Strada Graz (AT), Lieux publics (FR), Norfolk & Norwich Festival (UK), Østfold kulturutvikling (NO), Oerol Festival (NL), Theater op de Markt (BE) and UZ Arts (UK).
Research-Partners: CDC Toulouse (FR), Dublin Dance Festival (IR), Tanz.Ist Dornbirn (AT), Opera Estate Festival Bassano del Grappa (I), DansBrabant (NL).
credits