foreign tongues (street cluster)
In the labyrinths of cities a certain complexity cannot be avoided. Random encounters in public spaces increase the ability to react, direct the gaze, allow for new modes of thinking and seeing, while, at the same time defining the communication that arises between people under the spell of architecture, matter and landscape. The questions of how we use language, how a given statement is interpreted by another, are at the centre of this performance; for the city as a living-space, constantly generates new expressions, jargons and phonemic variations.
But what is the specific sound of a certain meaning? How does its embodiment look? The languages sampled in Foreign Tongues are, even before they have meaning, fundamentally sound and rhythm, ambivalent islands of sound. Dialects, regional languages and slangs get transformed into sequences of movement, based on their dynamics, emphasis and acoustic atmosphere. Speech patterns – in the interplay of feeling and rational thinking – are musically captured and interpreted through gestures. What initially may seem like a Babylonian tangle of languages, is turned, via the bodily adaptation in space, into a form of communication which far surpasses its linguistic content.
photos: c. haring, m. loizenbauer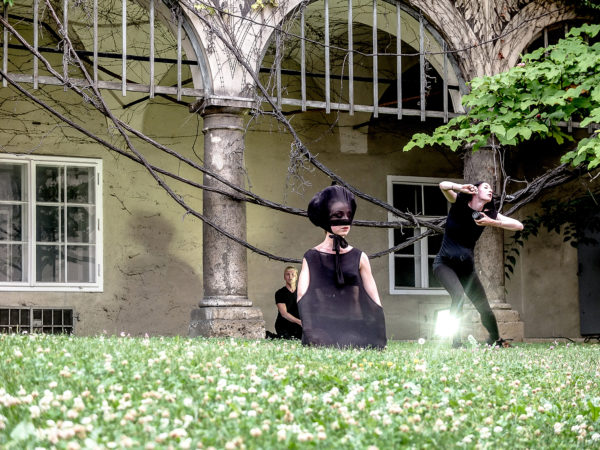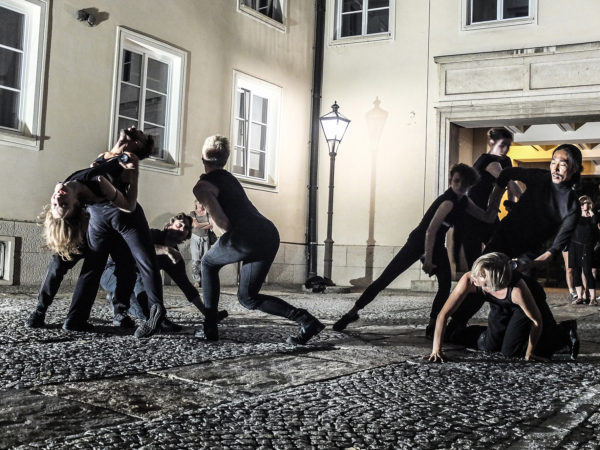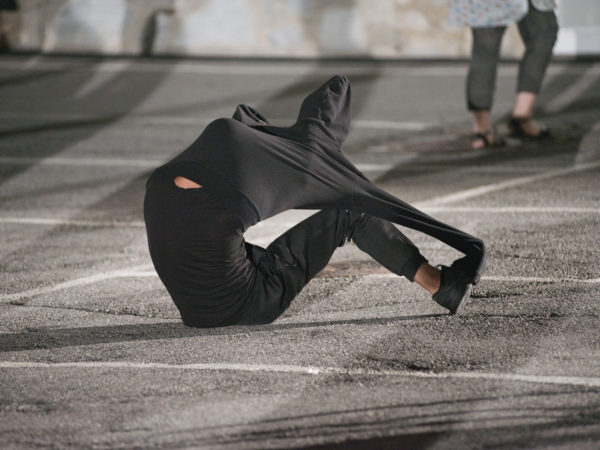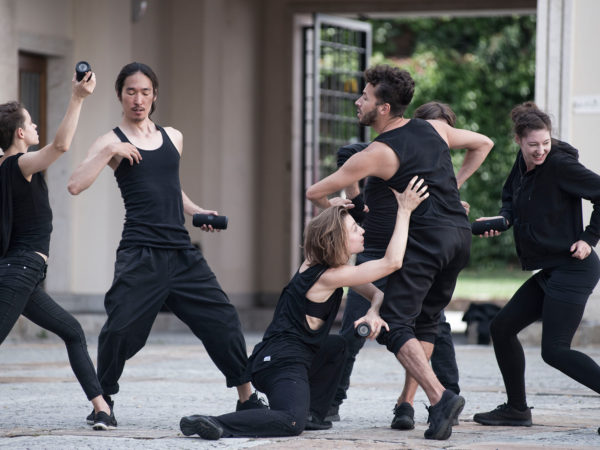 With a flexible sound system the performers interweave the urban soundscape with the timbres of distant or neighbouring language spaces. The audience follows these audio tracks which, interpreted through dance, become readable like an open-air score. The sound of the cities becomes a spoken word symphony which expands with each new location. Foreign Tongues uses the collision of languages and communicative contradictions as a means of creation – demonstrating, among other things, how much is already understood, even at a point where you think you haven't understood anything yet.
In the Foreign Tongues projects series, Liquid Loft explore the complex interactions between verbal messages and their physical attributes. Foreign Tongues approaches, with the vocabulary of body language, the often contradictory forms of communication. Starting point for the various performances are language recordings, which were produced as part of personal interviews in different regions of Europe. Foreign Tongues expands into public space in different cities of Europe within the framework of an IN SITU pilot project. The site-specific performances are based on local languages and jargons, reflecting the sound environment of the place. With every location, the "Spoken Word Symphony" grows, the characteristic architecture of the site becomes the scenery of the play.
Atelier 213 Sotteville-Lès-Rouen, FR
Atelier 213 Sotteville-Lès-Rouen, FR
Kimmel Center for the Performing Arts, Philadelphia,USA
Kimmel Center for the Performing Arts, Philadelphia,USA
Freedom Festival Hull, UK
Freedom Festival Hull, UK
Fronta Festival, Murska Sobota, SI
Opera Estate, Bassano de Grappa, IT
Theater op de Markt, Hasselt, BE
Theater op de Markt, Hasselt, BE
Teatri Oda, HAPU Festival, Pristina, XK
Oerol Festival, Terschelling, NL
Dans Brabant, Tilburg, NL
Travellings Festival, Marseille
dates
Dance, Choreography: Luke Baio, Dong Uk Kim, Katharina Meves, Dante Murillo, Anna Maria Nowak, Arttu Palmio, Karin Pauer, Hannah Timbrell
Artistic Direction, Choreography: Chris Haring
Composition, Sound: Andreas Berger
Light Design, Scenography: Thomas Jelinek
Costumes: Stefan Röhrle
Libretto: Aldo Giannotti
Program Texts: Stefan Grissemann
Stage Management: Roman Harrer
Photo- and Video Documentation: Michael Loizenbauer
Distribution: APROPIC – Line Rousseau, Marion Gauvent
Production Coordination: Christina Helena Romirer
Company Management, Produktion: Marlies Pucher
Co-produced by: Atelier 231 (FR), Festival di Terni (IT), Freedom Festival (UK), La Strada Graz (AT), Lieux publics (FR), Norfolk & Norwich Festival (UK), Østfold kulturutvikling (NO), Oerol Festival (NL), Theater op de Markt (BE) and UZ Arts (UK).
Research-Partners: CDC Toulouse (FR), Dublin Dance Festival (IR), Tanz.Ist Dornbirn (AT), Opera Estate Festival Bassano del Grappa (I), DansBrabant (NL).
Foreign Tongues, an IN SITU Pilot project, has received a creation aid under the ACT project, co-funded by the Creative Europe Programme of the European Union
Liquid Loft is supported by: MA7 Kulturabteilung der Stadt Wien (Cultural Department of the City of Vienna) and BKA Bundeskanzleramt Kunst & Kultur (Austrian Federal Chancellery Arts & Culture)
credits