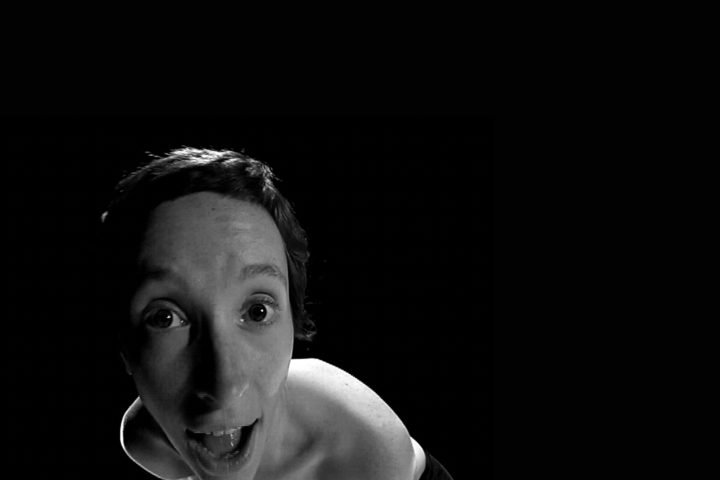 legal errorist
A performance of transformation, a transformance, changes its medium and encounters a camera, which plays dance music – under the secret eye of a room that bends and twists along with it. The Legal Errorist – personified by dancer Stephanie Cumming – is a creature that cannot stop crashing. The sudden over-powering by the "error", the system error, engenders the creature's obsession. She commences with great relish through a series of transformations; that which hits upon the limits of a simple machine serves as a learning program for the Legal Errorist. Film and performance-parallel projection or articulated interference? Massively, like a mountain, the body of the "Errorist" falls to the floor and lands with an obstinate sound whose source seems remote from anything human.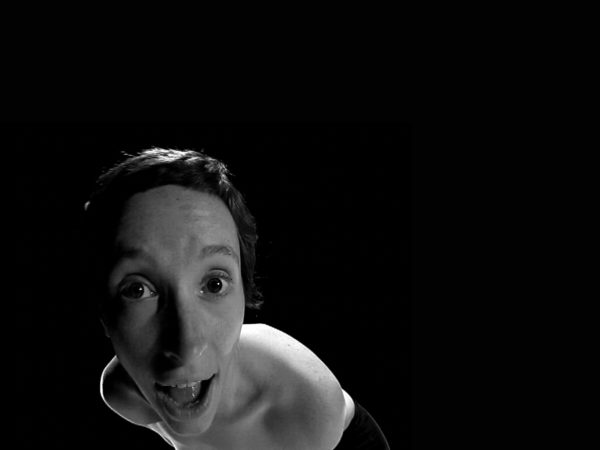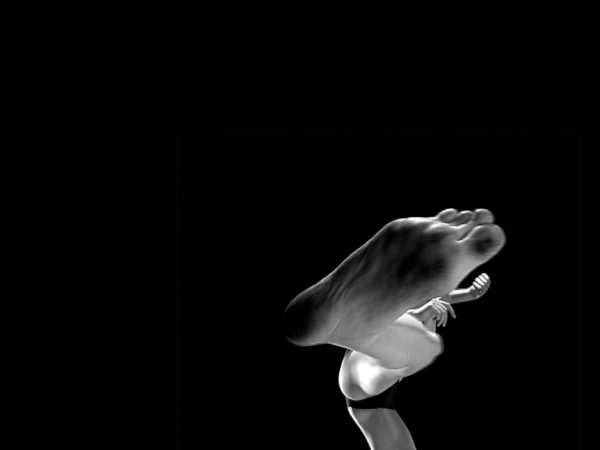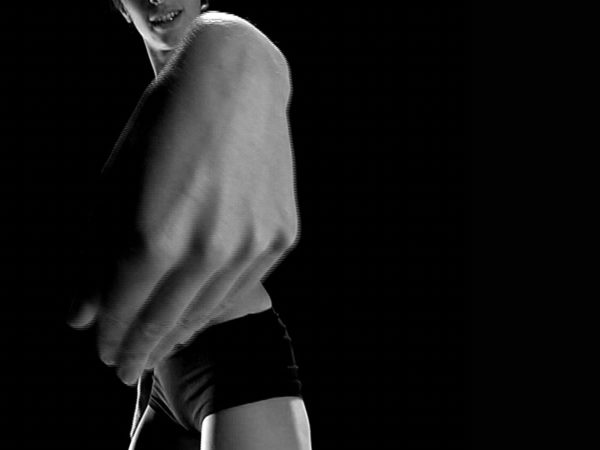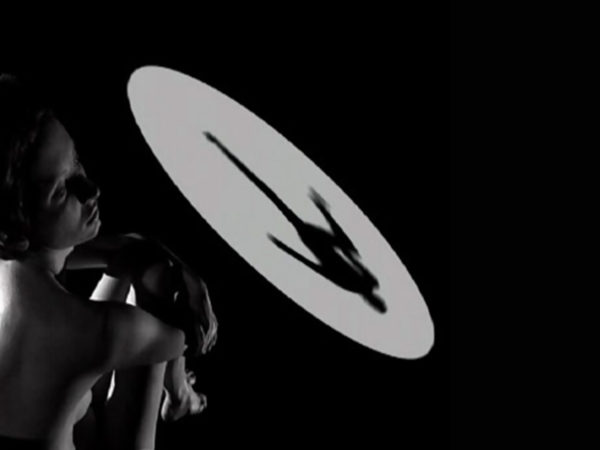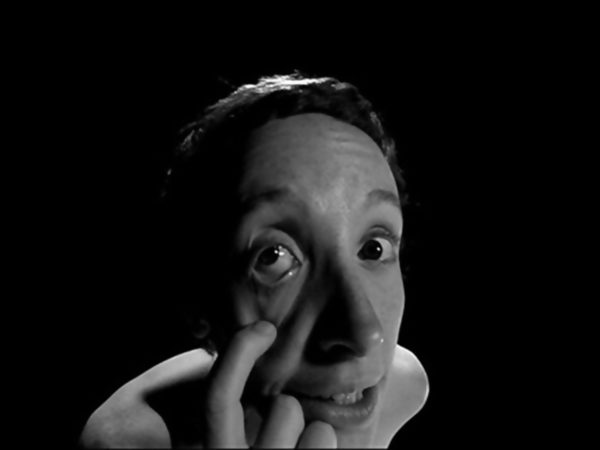 As though she were her own director, she speaks animatedly with numerous invisible colleagues. She speaks to the microphone, not through it: an eerie animated world of objects, which become fellow creatures when one creature cannot categorize herself precisely. "What?!?" roars the Legal Errorist defiantly – as though to a higher being in the dark, and not the diffuse collective of the audience. And she begins to lure the gaze through the catalogue of her body parts. The voyeur's fatally bundled attention seems inverse to the body set against it, anamorphically distorted by the extremely wide-angled lens. Does this gaze document a foul subjectivity or does this closed world look back as its own lens? The camera is a shrewd ally in the counterattack launched by the body on display.
text: k. zakravsky, translation: l. rosenblatt
a film by: Mara Mattuschka & Chris Haring
Based on the stage performance Legal Errorist by Liquid Loft. The film Legal Errorist is part of the permanent exhibition at Centre Pompidou, Paris, FR. 
Starring: Stephanie Cumming
Camera: Sepp Nermuth
Light: Werner Stibitz
Choreography, Idea: Chris Haring
Sound: Glim
Editing: Mara Mattuschka
Distribution: sixpack film
(c) 2005

credits
Screenings

04.03.21
Casino Luxembourg
05.06.19
Metrokino Kulturhaus / Filmarchiv Austria
29.04.14
Breaking Ground: Here's Looking at You / Austrian Cultural Forum Moscow, RU
16. 08.14
Dokufest Int. Doc Film Prizren, Kosovo
01.05.14
Int. Kurzfilmtage Oberhausen
25. 04.14
Breaking Ground. Moscow Museum of Modern Art
04.04.14
Int. Frauenfilmfestival Dortmund, Köln, Germany
05.12.13
Korea University KU Cinemateque, Seoul, Korea
13.11.13
City 46, Bremen, Germany
18.05.13
EYE Film Institute, Amsterdam, The Netherlands
01.05.13
IVAC La Filmoteca, València, Spain
01.05.13
Filmoteca de Zaragoza, Spain
10.04.13
BAFICI International Independent Film, Buenos Aires, Argentina
14.02.13
Cinema Lux, Caen, France
08.02.13
Centre Pompidou, Paris, France
28.02.12
Wien – Filmhaus Kino
26.05.11
Barcelona – Centre de Cultura Contemporània
27.01.11
Mal Seh'n Kino Frankfurt
22.07.10
Wroclaw New Horizons
25.06.10
New York Anthology Film Archives, Mara Mattuschka Special
03.06.10
Movimiento Linz, Mattuschka Abend
21.04.10
Galerie Maerz, Linz
06.11.09
Sczecin Kana Theatre Center
18.09.09
Ruhetobel IBK Künstlerbegegnung
26.06.09
Centre Georges Pompidou Paris, Purchase for Collection
17.03.09
Diagonale Festival des österr. Films – Personale Mara Mattuschka
26.02.08
Rencontres Audiovisuelles Lille
15.11.07
The Brighton CINECITY
18.05.06
Int. Videofestival Bochum
02.02.06
Minneapolis Women with Vision
23.01.06
Filmfestival Max Saarbrücken
19. 01.06
Wand 5 Stuttgart
21.11.05
Regensburger Kurzfilmwoche
20.10.05
Viennale Filmfestival/ Urania
19.10.05
49. Film Festival London
14.10.05
Viennale Int. Filmfestwochen
09.09.05
50. Int. Film Festival Cork
22.09.05
Cinematexas Int. Short Film Austin
07.09.05
Seoul 05 – EXis
27.07.05
Brisbane Int. Film Festival
01.07.05
Int. Film Festival La Rochelle
08.06.05
Int. Kurzfilmfestival Hamburg
20.05.05
VIDEOEXperimental Zürich
21. 04.05
51. Int. Kurzfilmtage Oberhausen
20.04.05
European Media Art Osnabrück
14. 03.05
Diagonale Festival des österreichischen Films
26.01.05
34. Int. Filmfestival Rotterdam
dates