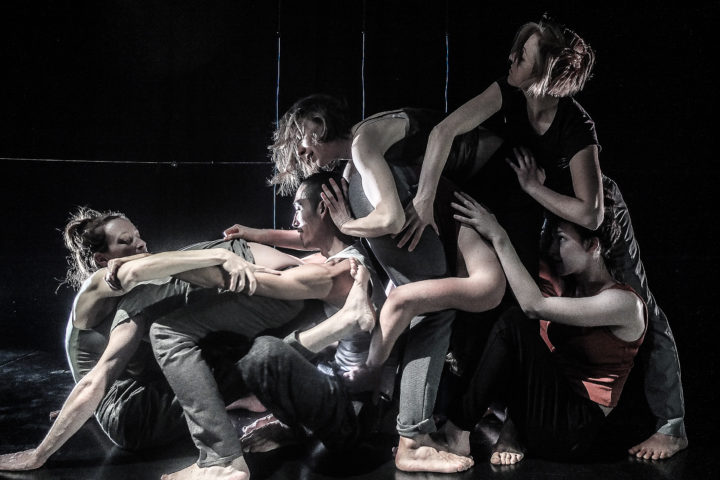 models of reality
Over an extended period of time Liquid Loft has been collecting a varied spectrum of audio recordings of regional dialects and languages of different European regions for their outdoor cycle Foreign Tongues.
In the course of the project, an astonishing language library was created, which was interpreted performatively by the dancers on the basis of the phonetics and rhythmics of the languages. Other materials can, in their aural manifestation in the acoustic space, also be part of this library: the rustling of the leaves, the crunching of gravel, sounds that arise from the friction of surfaces such as concrete, glass, paper. These sounds have something pre-linguistic: the scraping, squeaking, scratching and creaking reminds us that rooms are also choreographed sound processes in which utopian "space sculptures" can arise through metamorphoses and transformations of the body.
photos: c. haring
In Models of Reality this mutation of sounds, their solidification into spatial contexts becomes the acoustic pendant to the leaps of bodies and minds. The collaged noises and sound-atmospheres coagulate into a foundation for imaginary rooms centred around the human body – according to Foucault the "main actor of all utopias."
Models of Reality is an attempt to locate – and develop a topography of – the body using imaginary cartography.
23/02/2019
Tanzquartier Wien, AT
22/02/2019
Tanzquartier Wien, AT
21/02/2019
(premiere)
Tanzquartier Wien, AT
dates
Dance, Choreography: Luke Baio, Stephanie Cumming, Dong Uk Kim, Katharina Meves, Dante Murillo,Anna Maria Nowak, Arttu Palmio, Hannah Timbrell
Artistic Direction, Choreography: Chris Haring
Composition, Sound: Andreas Berger
Light Design, Scenography: Thomas Jelinek
Costumes: Stefan Röhrle
Theory, Text: Stefan Grissemann
Dramaturgical Advice, Research: Thomas Jelinek, Marlies Pucher
Stage Management: Roman Harrer
Photo- and Video-Documentation: Michael Loizenbauer
International Distribution: APROPIC – Line Rousseau, Marion Gauvent
Company Management, Production: Marlies Pucher
Production: Liquid Loft in Co-operation with Tanzquartier Wien
Liquid Loft is supported by Kulturabteilung der Stadt Wien (MA7) and Bundeskanzleramt für Kunst und Kultur (BKA) 
credits