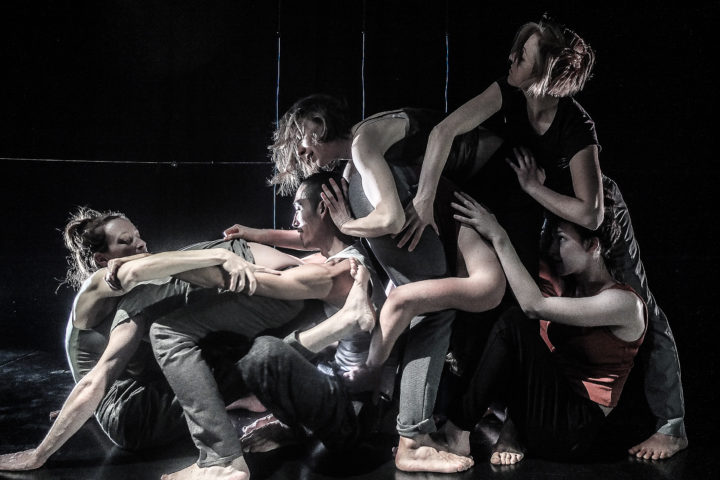 models of reality
In their acoustic manifestation, different materials can create imaginary spaces on stage: the rustling of the leaves, the crunching of gravel, or the friction of surfaces such as concrete or glass, remind us that utopian sculptures can appear through physical transformation. Inspired by the design ideas and architectural concepts of the Bauhaus founded 100 years ago in Weimar, the performers take the principle of "Form Follows Function" quite literally, while simultaneously deconstructing it.
In Models of Reality the transformation and solidification of sound into spatial contexts are the acoustic counterpart to the leaps of bodies and minds and evoke different emotional connotations: How do we, for instance, perceive an embrace when it's accompanied by the sound of cracking? Sensory atmospheres and noise collages come together to create a foundation for imaginary rooms centred around the human body – according to Foucault the "main actor of all utopias".
photos: m.loizenbauer
The principle of form which has to follow function became the decisive design-principle of the Bauhaus School which was founded 100 years ago. In Models of Reality we find this basic idea applied to the "functions" of a composition for space, movement and sound, to give those a choreographic form. By using playbacks of recordings of various materials – glass, wood or plastic – abstract spaces are evoked. How does one relate to acoustic architecture? And how does it affect the bodies existing within? They go through attraction and repulsion, affection and distance; and they wrestle each other (or wrestle for something), while the sounds of crackling, crunching, groaning and grinding pour out of mobile loudspeakers:
Ceremonies of stretching and twisting. The ensemble acts with an unfathomable logic in the tangle of voices, shapes the fragments of meaning, the splinters of song, all the synthetically mangled foreign tongues, the music and the noise into bodily emotions and inter-personal display of relationships.
Choreographies are mobile designs, ethereal constructs. The stage they rely on is a Foucaultian heterotopia, a "counter space" that defies all other spaces. This intermediate world becomes the playing field for the acoustic-dancer defined artificial figures that emerge in it. Self-determined, on the search for themselves, they newly think those sounding spaces, push forward into unknown zones.
The phantasm of overcoming force limits and constraints, physical expansion, is dominant in pop culture: we fantasize about mutations, superhuman abilities, enchanted, augmented, improved bodies. In our day- and nightly dreams we are always elsewhere, are "outside". The body we find ourselves trapped in – as Michel Focault points out – remains a stranger, an enigma. Only in the act of love, through the touch of the other, the body catches up with itself, has his invisible part become visible and tangible. For that reason, the embrace plays a fundamental role in Models of Reality: When the fluid figures, transformed by the very concrete material noise, which envelopes them like a protective skin, embrace each other and blend into each other, they become sculptural. This way the "counter room" is conquered by these "counter bodies", which literally correspond with it and only thus satisfy it.
Form follows function, the end justifies the means; yet there is something spooky in the desire to make humans "function", to "optimize them so radically that they threaten to seamlessly dissolve into each other. But beneath the thin ice of adaptation to economy and anti-ornamentalism lie subversion, resistance and extravagance: The bodies that are designed in Models of Reality can only get to their utopian core by silently mocking the functionalism they seem to be so desperately chasing in each of their wasteful movements.
Text: Stefan Grissemann
Translation from German: Oliver Stummer
Shakespeare Theatre Gdansk, PL
Burgenländische Tanztage, Eisenstadt, AT
dates
Dance, Choreography: Luke Baio, Stephanie Cumming, Dong Uk Kim, Katharina Meves, Dante Murillo, Anna Maria Nowak, Arttu Palmio, Hannah Timbrell
Artistic Direction, Choreography: Chris Haring
Choreographic Assistance: Stephanie Cumming
Composition, Sound: Andreas Berger
Light Design, Scenography: Thomas Jelinek
Costumes: Stefan Röhrle
Theory, Text: Stefan Grissemann
Dramaturgical Support, Research: Thomas Jelinek, Marlies Pucher
Stage Management: Roman Harrer
Photo- and Video-Documentation: Michael Loizenbauer
International Distribution: APROPIC – Line Rousseau, Marion Gauvent
Company Management, Production: Marlies Pucher
Production: Liquid Loft in Co-operation with Tanzquartier Wien
Liquid Loft is supported by Kulturabteilung der Stadt Wien (MA7) and Bundeskanzleramt für Kunst und Kultur (BKA) 
credits
der standard 23.2.2019
"Models of Reality": Im Knarzen der smarten Spaßmaschine / Helmut Ploebst
Eine Uraufführung der Wiener Company Liquid Loft unter ihrem Choreografen Chris Haring im Wiener Tanzquartier Für Liquid Loft befindet sich der menschliche Körper schon längst im Zustand seiner Automatisierung. Das zeigt die Wiener Company unter ihrem Choreografen Chris Haring gerade mit der Uraufführung von Models of Reality im Wiener Tanzquartier.
Ein perfekter Titel – nicht nur für Harings Performance, sondern ganz generell für den zeitgenössischen Tanz. Denn der entwirft immer wieder dynamische Modelle davon, wie sich Gesellschaften den menschlichen Körper kulturell "einverleiben".
Nach diesem Prinzip bewegen sich in Models of Reality acht Frauen und Männer durch eine exakt geometrische Bühnenarchitektur (Thomas Jelinek). Der Programmtext nennt die Referenz "100 Jahre Bauhaus" für die Gestaltung. Das erinnert an die tanzenden Figurinen des berühmten Oskar Schlemmer und überdies daran, dass Bauhaus-Impulse über den Umweg USA auch die Entwicklung des postmodernen Tanzes beeinflusst haben.
Körperautomaten, Maschinentänzer
Schlemmers Gestalten bauten schon auf der Faszination des klassischen Balletts für Körperautomaten (Coppélia, Puppenfee) auf und waren mit den Maschinentänzern der russischen Avantgarde verwandt.
Die Automatisierung der Liquid-Loft-Körper zeigt den großen Sprung nach vorn: in Form der Invasion des menschlichen Körpers durch "smarte" Technologie. Deren Monstrosität ironisiert Haring seit gut fünfzehn Jahren immer wieder neu. Bei Models of Reality wird das etwa in einem brillanten Loop-Solo der Tänzerin Katharina Meves besonders deutlich.
Auch dieses Liquid-Loft-Stück gelangt erst durch den raffinierten Sound von Andreas Berger zu seiner wahren Tiefe. Die Körper knarzen, knirschen und knacken in Reibung mit unsichtbarem, wie unter die Haut gedrungenem Material. Sie sondern Wort- und Satzfetzen und Teile eines Dylan-Songs (You're No Good) ab und bilden, bevor sie endgültig stecken bleiben, eine Spaßmaschine aus Fleisch und Tod. Fazit: extrem gelungen.
der standard, 19.2.2019
Choreograf Chris Haring: Kämpfer gegen verzerrte Körperbilder / Porträt Helmut Ploebst
Er ist eine fixe Größe in der heimischen Tanzszene, seine Figuren bewohnen fluide Zwischenwelten.
Es gibt Personen, es gibt Typen, und es gibt "Liquid-Loft-Charaktere". Mitten in einem Wiener Café, aber doch an einem Seitentisch ein Treffen mit Chris Haring. Es muss schnell gehen, weil der Künstler in den Proben für ein neues Stück steckt. Also zur ersten Frage: Was sind Liquid-Loft-Charaktere? Harings Beschreibung, knapp gefasst: in Zwischenwelten tanzende Figuren, die sich ob ihrer Eigenentfremdung trotz ständiger Selbstsuche immer wieder neu verlieren.
Der Bautrupp dieser Welten heißt Liquid Loft und setzt sich aus einer Gruppe um den österreichischen Choreografen zusammen. Der hat vor wenig mehr als zwanzig Lenzen eine für heimische Verhältnisse geradezu traumhafte Karriere – Goldener Löwe der Biennale von Venedig inklusive – begonnen. Und zwar 1996 im Wuk mit einem Stück, das den nicht ganz nüchternen Titel Cephalopods. Tanzzeitlose Kopffüßer im Tempodrom der Realität trug.
Kein Kunstfuzzitum
Widersprüche muss man leben können. Wie damals wirkt Chris Haring auch heute mit 48 so gar nicht überkandidelt. Vom Typ her ist er zwar näher bei Bruce Willis als bei Jan Böhmermann, aber es reicht weder für Hipster noch Macho. Haring zeigt Zurückhaltung statt Kunstfuzzitum, Ironie und Selbstzweifel. Er ist geradlinig, doch nicht richtig unkompliziert. Gutmütig ja, aber er sagt's, wenn ihm etwas nicht passt.
Jetzt im Café würde er lieber über die Probleme der freien Tanzszene reden als über sich. Nur ungern lässt er sich davon abbringen, schließlich ist der gebürtige Burgenländer dieser Szene seit Beginn seiner Laufbahn sehr verbunden. Er selbst wurde erst als Tänzer bei Bert Gstettners Tanz*Hotel – aber auch zum Beispiel im berühmten Londoner DV8 Physical Theatre – auffällig, bevor er sich endgültig auf seine Arbeit als Choreograf stürzte.
Heute weist seine Werkliste rund 30 Stücke wie Mush:Room, Deep Dish oder Candy's Camouflage auf. Etliche Frühwerke, etwa Die Geschichte der Eliza D. (1992), verschweigt Haring heute diskret. Ebenso, dass er nach seiner Ausbildung in Wien und New York bereits vor Liquid Loft eine Gruppe namens Grenztanz hatte und in den Neunzigern ein Festival in der burgenländischen Cselley Mühle leitete.
"Körper-Junkie"
Nach einer spektakulären Kooperation mit Multimediakünstler Klaus Obermaier zauberte Haring nicht weniger als ein eigenes Universum auf die Bühne. Bewohner dieses Kunstweltraums sind ebendiese realitätsverschobenen Figuren, die er "Liquid-Loft-Charaktere" nennt – so konsequent gezeichnet, dass sie beinahe wie (Anti-)Helden einer Serie wirken.
Tatsächlich arbeitet Chris Haring gerne in Werkreihen. "Weil ich es meistens nicht schaffe, in einem Stück fertig zu werden", behauptet er. Außerdem ist es ihm wichtig, über "längere Zeit mit denselben Leuten" verschiedene Formate zu generieren. Zu seinen eingefleischten künstlerischen Partnern bei Liquid Loft gehören der Musiker Andreas Berger, der Dramaturg Thomas Jelinek und die Tänzerin Stephanie Cumming. Mit ihnen hat er dieses Biotop seines künstlerischen Schaffens auch gegründet. Damals, 2005, wurde bereits deutlich, dass ein Liquid-Loft-Charakter stets am Rande des Zerfließens, ein "Körper-Junkie" und "ursprünglicher Fremdkörper" sein musste. Dies setzte Cumming manifesthaft in dem hinreißenden Solo Legal Errorist um.
Irrungen und Wirrungen
Seither zielen die Wirrungen der Haring'schen Körper auf alles, was unter den Oberflächen von ganz normalen Leuten abgeht, deren Körperverständnis sich in medialen Zerrspiegeln formt. Liquid-Loft-Charaktere geraten zwischen Science-Fiction, Pop und Optimierungswahn, Kultur- und Gender-Shifts in abseitige Situationen. Ihre vibrierenden Gestalten quetschen sich gerne durch Paradiesgärten, während ihre Lippen zu Sounds aus der Dose tanzen. I
n der jüngsten Liquid-Loft-Serie, Foreign Tongues, geht es seit 2017 in verschiedenen Varianten um Gefühlswelten, die durch fremde Sprachen, Dialekte und Slangs wuchern. Ab Donnerstag werden deren Weiten mit der Uraufführung von Models of Reality im Tanzquartier Wien um eine weitere Dimension wachsen: Jetzt verirren sich auch die Sprachen der Dinge zu den Tänzern – und dem Publikum.
tanz.at, 23.2.2019
Chris Harings akustische Körperarchitektur / Edith Wolf Perez
Mit zarten, grünen Lichtlinien wird ein Haus in den schwarzen Bühnenraum gezeichnet, in dem ein einzelner Tänzer anfängt seinen Körper zu strecken, zu beugen, zu verrenken. Dabei knatscht es ganz gewaltig. Ist es der Sound des Körpers oder ein Widerhall des "virtuellen" Gebäudes? "Models of Reality" verortet futuristische Menschen in einem akustischen Raum, in dem sie in einer Art Geräuschsprache miteinander kommunizieren.
Mit seiner raffinierten Verschränkung von Technik und Live-Performance lotet Chris Haring und seine famose Gruppe Liquid Loft das Verhältnis von Mensch und Maschine aus, ein Thema, das auch die AusdruckstänzerInnen vor hundert Jahren beschäftigte. Der Unterschied zu damals ist keineswegs ein rein formaler, denn Haring geht einen bedeutenden Schritt weiter: seine TänzerInnen haben die Technik in der Hand.
Nach jahrelanger Auseinandersetzung mit visuellen Medien, konzentriert sich Liquid Loft in seiner Serie "Foreign Tongues" auf akustische Signale. Aus den Lautsprechern, den die PerformerInnen in der Hand halten, dröhnen Stimmen, Wasserglucksen, Knarren, Knatschen, Knirschen, Ächzen, Stöhnen – Geräusche, die sich gleichzeitig in ihren Körperbewegungen manifestieren. Ihre Äußerungen kontrollieren sie über kleine i-Pods. Dialoge entstehen, wir verstehen sie über die Körperhaltungen und die Intonation, die verzerrten und gehäkselten Geräusche selbst klingen wie sinnloses Gebrabbel, das sich zu einer Kakophonie steigert, wenn sich die TänzerInnen zu einer Gruppe formen und (wohl kontrollierte) Knäuel bilden.
Als ZuschauerIn ist man eine Stunde lang dieser Welt ausgeliefert, in der diese futuristischen Menschen miteinander spielen, interagieren, raufen, einander zärtlich umarmen. Ein innovatives Kreativ-Team – neben dem Choreografen Chris Haring wirkt Andreas Berger als Komponist und Sounddesigner und Thomas Jelinek als Lichtdesigner und Szenograf – und die großartigen TänzerInnen Luke Baio, Stephanie Cumming, Dong Uk Kim, Katharina Meves, Dante Murillo, Anna Maria Nowak, Arttu Palmio und Hannah Timbrell machen daraus ein faszinierenden Erlebnis.
Die akribische Inszenierung verordnet den DarstellerInnen ein überaus diszipliniertes Agieren, hält sie in Dauerspannung, damit die akustischen und körperlichen Teile zueinander passen. Man kann das als dystopische Weltsicht interpretieren, doch ich meine, Harings "Models of Reality" sind nicht wertend. Vielmehr konzentriert sich seine künstlerische Forschung mit beinahe wissenschaftlicher Distanz auf eine posthumane Zukunft, die bereits begonnen hat. Die Frage, inwieweit sich in dieser Welt die Kommunikation noch an der menschlichen Sprache orientiert, ist eine äußerst spannende.
vorarlberger nachrichten, 22.2.2019
der koerper als klingende maschine
wiener zeitung, 22.2.2019
Der heimische Choreograf Chris Haring und sein Ensemble Liquid Loft verleihen den bewegten Körpern eine Geräuschkulisse / Verena Franke
Es knarrt und quietscht, fast wie eine alte Lederhose, wenn sich der Performer wellenartig und geschmeidig bewegt. Bläuliches Licht, in feinen Linien auf der sonst dunklen Bühne, simuliert Räume. Man muss sich dem Geräusch hingeben, um nicht der zuvor ziemlich dreisten Gänsehaut freien Lauf zu gewähren. Nach und nach schließen sich weitere Performer den Bewegungen an, was zufällig und somit improvisiert wirkt, ist bei Chris Haring bis ins Detail inszeniert.
Diesmal zeigt der heimische Choreograf "Models of Reality" im Rahmen seiner Produktionsreihe "Foreign Tongues", für die er unterschiedliche Sprachen, Slangs und Töne aufgenommen hat. Während seine letzte Performance "Babylon (Slang)" beim vorjährigen Impulstanz-Festival in den Hofstallungen zur Aufführung gebracht wurde und der Zuseher sich als aktiver Beobachter zwischen den Performern bewegen konnte, ist Haring nun zu einer distanzierten Guckkastenansicht zurückgekehrt. Auch diesmal stattet er im Lauf der Performance die Tänzer mit kleinen Lautsprechern aus, verwendet seine Sprachen-Aufzeichnungen, um skurrile Charaktere zu basteln. Seine erprobte Verbindung von Ton und Bewegung ist teilweise komisch.
Doch richtet Haring seinen Fokus in "Models of Reality" auf Geräusche. Es sind Geräusche des Alltags, die man zwar hören könnte, aber selten wahrnimmt. Jetzt aber schon: Diesen Tönen ordnet man instinktiv eine Situation zu. Es klingt wie der Löffel, der im Kaffeehäferl gegen das Porzellan schlägt oder wie ein Fuß, der in der Dusche über die Emaille schleift. Quietschen, Knistern, Knarren und Knirschen begleiten und führen die acht Performer in ein fließendes Miteinander im Wechsel zwischen häufigen Duetten, Trios und einem großen Ganzen mit bizarren Körperskulpturen, die in Posen festgehalten werden. Längen entstehen in der 60-minütigen Performance dann, wenn zu zeitintensiv auf einen weiteren szenischen Höhepunkt hingearbeitet wird. Als gegen Ende ein Geräusch zu hören ist, das als lautes Kratzen über ein Mikro bezeichnet werden kann, die Performer sich teils zuckend in wiederkehrenden Sequenzen auf die Zuschauer hinbewegen, wird es gruselig und mitreißend. Nicht nur aufgrund der Inszenierung, sondern auch dank dieses Ensembles aus herausragenden Performern wie Stephanie Cumming, Luke Baio oder Dante Murillo.
reviews
IT'S A SWARM THING
Lorenzo De Chiffre on Models of Reality by Liquid Loft
On the untrained eye, which I consider myself to be, the new performance by Liquid Loft, Models of Reality, leaves an impression of great complexity. In the one-hour performance, the fascinating group of eight dancers presents a mesmerising sequence of physical tableaux, creating a myriad of associations in a fluorescent space grid.
The human body is clearly the main actor in this work by choreographer Chris Haring, as is the case in contemporary dance in general. In architecture, on the other hand, the artistic field that is my home ground, the role of the body is a less clear-cut one. Beyond its function as a concrete unit of measure (foot, ell, pace) and the concept of human beings as an image of divine proportions (Leonardo da Vinci's "Vitruvian man"), the body is considered in a conspicuously abstract manner in practice. Consequently, countless construction designs and spaces are conceived and/or created with a body in mind that is sometimes less well known, sometimes more clearly specified, but always somehow ubiquitous and phantom-like, and conceptualised as traversing and inhabiting the built framework. What remains are traces of use: the crushing rubbing of the body on the surfaces of the built environment.
To bridge this gap, I attended two rehearsals at Liquid Loft's rehearsal space, a small factory building in Favoriten, Vienna. Compared to the actual performance in TQW Hall G, this explicitly constituted a first shift in the spatial situation, which is one of piece's basic themes. The choreography was developed in a condensed form in the much smaller rehearsal space, which primarily serves as a model or simulation of a real space. But as a result of developing the piece collectively in countless rehearsal sessions, a trace of the rehearsal space inevitably remains in the dancers' body consciousness when they are on stage.
SPACE
The black stage space is divided into nine cubic fields. Thin, blue strips of light, straight as an arrow, hint at some of the side edges. This creates the impression that the basic geometric shape of the cube has either not yet been completed or is about to dissolve. The first association with this minimalistic yet striking stage set by Thomas Jelinek is a digital space. As if you were looking at a screen or the so-called "model space" of conventional CAD software. Especially from an elevated position, the stage seems like the isometric world of a computer game, the dancers being characters with individual attributes or "skins". Various images from the world of film cross your mind, e. g. from the cult sci-fi movie "Tron" (1982), in which the protagonists get sucked into a computer game in whose digital labyrinths they face various threats. The frontal view of the stage, on the other hand, creates a completely different effect. Spaces that appear to be separate and blurred together at the same time reveal themselves, somehow reminiscent of Lars von Trier's film "Dogville" (2003). But in terms of the interface between stage design and architecture, perhaps the most interesting reference is Frederick Kiesler's "Raumstadt" concept (1925): a space frame for groundbreaking stage set models from the early 20th century and at the same time a built manifest in model form for a new city, heralding the dissolution of fixed spaces and the Total Theatre as a symbol of new places for the community.[1]
BODY
A male dancer in a plain, rusty red T-shirt appears in the dark. His gentle movements are accompanied by a squeak, as if a balloon was being twisted. A second dancer, also dressed plainly, joins in. This is followed by a rocking back and forth that oscillates between hugging and pushing away. The remaining dancers join in, one after the other. Accompanied by increasingly menacing sounds, a constantly changing entanglement of the eight bodies builds up on stage. Delicate embraces alternate with an intense and ever more vehement rubbing of bodies. The individual body parts and the delicate Vermeer colours of the clothes combine to create a dynamic body conglomeration by way of acrobatic movements. This mesmerising passage, which recurs later in the piece, dissolves, and the dancers spread themselves out on the nine cubes. Everyday sounds and incomprehensible chatter coming from loudspeakers they hold in their hands appear to animate them, like puppets. As if tuning an old radio, sound fragments (music, the sound of clinking coins or splashing water) fill the air and make the protagonists dance – alone, in pairs and in groups. These fragmented patterns of movement – apparently attempts at interactions – become more and more abstract. All of a sudden, it feels as if you're watching a swarm of bizarre life forms through a microscope, and the unaltered stage set suddenly seems like an analytical space for forms of movement. With the intensity of the interactions ever increasing and, correspondingly, the soundtrack becoming ever more compact and reverberating in your body, the attempts made at communication fluctuate between sensitive and belligerent.
SOUND
There are two recurring elements. On the one hand, passages in which a dancer, facing the audience, "sings" (obviously playback) about being hurt in love. The other dominant sound is a noise called "stone floor". The screeching rubbing against stone runs through the piece as a motif in varying degrees of intensity until the culmination at the end. Chris Haring describes this sound as suggestive of "being yanked out of the world". Andreas Berger's sound design is based on an extensive archive of field recordings made during many tours by the members of the company, the "Liquid People". Using digital manipulation and distortion to build a complex mosaic from these fragments, they are distributed across the stage space through speakers, thereby becoming the ninth protagonist.
THEORY
In Models of Reality, Chris Haring refers to two different systems of concepts, which he puts to the test using his medium, dance, and which serve as a framework of reference. First, the double text by Michel Foucault "Heterotopias. The Utopian Body", originally two radio lectures from 1966. In these early short texts, the French philosopher outlined the complex relation between built spaces and the human body. The interconnections between the "placeless place" and "placeless language"[2] find expression in Haring's choreography.
The second system of concepts is linked to the dictum of modern architecture: "Form follows function". Introduced by Louis H. Sullivan with reference to the high-rise architecture that began to flourish in the USA at the end of the 19th century, this maxim became the cornerstone of modern architecture and industrial design in the 1920s. Above all, the Bauhaus embodied the principle of a rational basis for designing the living environment of human beings. In architecture, two pioneering projects from this period are of particular interest: first, the "Frankfurter Küche" by Margarete Schütte-Lihotzky (1926) and, second, the study "Versuch eines graphischen Verfahrens zur Bewertung von Kleinwohnungsgrundrissen" by Alexander Klein (1927). In both cases, the Taylorist principle of optimising production processes in factories was essential. An attempt was made in architecture to create a spatial framework for all areas of life of the modern human being (especially the housewife), in which he or she would walk like a modern Ariadne along invisible (yet predetermined in precise diagrams) paths through the labyrinths of everyday life.
In contrast to this mechanical ballet, as envisaged by the architects of "heroic modernism", Haring interprets "Form follows function" much more generally. He is concerned with how human bodies piece themselves together with other bodies and create transitory gaps, thereby literally building a community. In that sense, the performance is not only to be understood as a study of the interplay between heterotopias and utopian bodies, but also (referencing Ágnes Heller) as a call for "places where individuals can build a community – to achieve communal exaltation, contemplation in the realm of the 'Absolute Spirit' without sacrificing personal freedom. You can still enjoy moments of happiness. They have become embodied utopian realities."[3] Anyway, that's how I experienced the encounter with Chris Haring's Liquid Loft.
Lorenzo De Chiffre (b. 1974) is a freelance architect and author as well as a senior lecturer at Vienna University of Technology. He studied at the Royal Danish Academy of Fine Arts and at the University of East London. He was a member of staff/project manager at Caruso St John Architects in London and several architectural firms in Vienna, where he was mainly involved in major residential building projects. He wrote his doctoral thesis on the Viennese-style stepped-section building ("Wiener Terrassenhaus") in 2016 and curated the exhibition "Das Terrassenhaus. Ein Wiener Fetisch?" at Architekturzentrum Wien in 2017. Lorenzo De Chiffre's main interests in teaching and research are architectural design strategies. In 2018, he published and co-edited the book "Ikonen. Methodische Experimente im Umgang mit architektonischen Referenzen". He was also presented with the "Best Teacher Award" at the Faculty of Architecture and Spatial Planning of Vienna University of Technology in 2018.
[1] Friedrich Kiesler, "Manifest. Vitalbau – Raumstadt – Funktionelle Architektur", in De Stijl, Issue 10/11, Leiden 1925 (Reprint 1968); cf. Barbara Lesák, Die Kulisse explodiert. Friedrich Kieslers Theaterexperimente und Architekturprojekte 1923–1925, Vienna 1988, p. 168ff.
[2] Daniel Defert, "Raum zum Hören", in Michel Foucault, Die Heterotopien. Der utopische Körper, Berlin 2013.
[3] Ágnes Heller, Von der Utopie zur Dystopie. Was können wir uns wünschen?, Vienna, Hamburg 2016.
texts