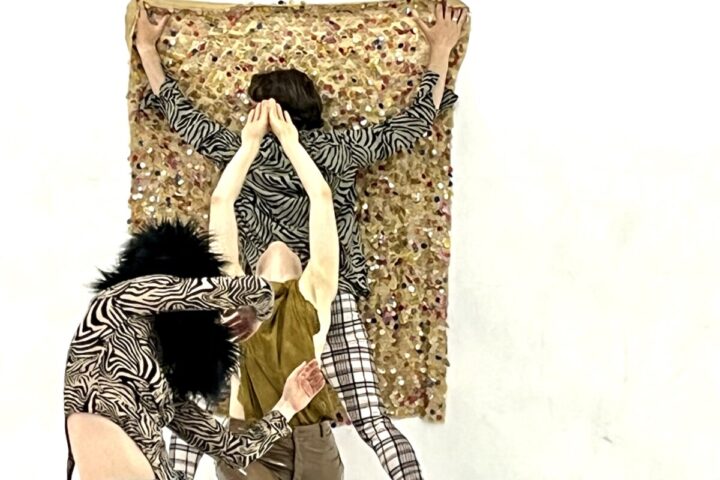 modern chimeras
The chimera, mythologically shifted into monstrosity and polyanimalism, is also illusory, an untrustworthy image, spawned by fantasy, something ephemeral and conceivable only as stuck in permanent transformation.
In an eponymous essay from 1895, H.G. Wells theorised the "Limits of Individual Plasticity"‒‒ the ideas further developed in the sci-fi novel The Island of Dr. Moreau‒‒in which he explored the question of how far living animals could be surgically or chemically modified towards human form. In a poetic sense, Modern Chimeras takes this notion a step further so ancient chimeras (with printed animal skins) and "animalistic" body language are associated into the present.
Modern Chimeras is also utopian in that it declares equality between creatures, the avoidance of hierarchies and an end to those crutches that are called coherence and order.
ImPulsTanz Vienna International Dance Festival, AT
ImPulsTanz Vienna International Dance Festival, AT
dates
Dance, Choreography: Luke Baio, Stephanie Cumming, Dong Uk Kim, Katharina Meves, Dante Murillo, Anna Maria Nowak, Hannah Timbrell
Artistic Direction, Choreography: Chris Haring
Composition and Sound Concept: Andreas Berger
Light Design, Scenography: Thomas Jelinek
Costumes: Stefan Röhrle
Stage Management: Roman Harrer
Theory: Stefan Grissemann
Distribution: APROPIC – Line Rousseau, Marion Gauvent, Lara van Lookeren
Production: Marlies Pucher
Thanks to Jakob Lena Knebl and Hans Scheirl for the donation of props.
A production by Liquid Loft in co-operation with ImPulsTanz Vienna International Dance Festival
Liquid Loft is supported by the Cultural Department of the City of Vienna (MA 7) and the Austrian Federal Ministry of Arts and Culture, Civil Service and Sport (BMKOES).
credits